Posted on
Tue, Nov 20, 2012 : 2:59 p.m.
Ann Arbor to buy and scrap 2 Harley Davidson motorcycles wrecked by police in training
By Ryan J. Stanton
The city of Ann Arbor is spending $28,000 to purchase and scrap two Harley Davidson motorcycles after city police officers wrecked them during two separate training exercises.
The Ann Arbor City Council voted unanimously Monday night to approve the purchase of the two damaged bikes. City officials said they'll be sold as scrap now.
The bikes are part of a group of four police motorcycles being leased by the city from Vehicle City Harley Davidson of Flint.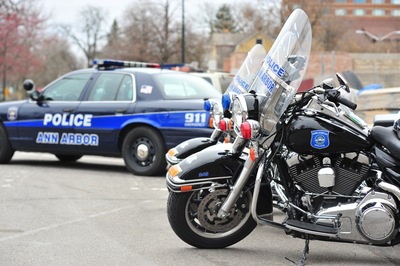 Ryan J. Stanton | AnnArbor.com
City officials said they were damaged beyond economical repair during two separate training exercises. The estimated repair costs were $14,053 and $13,346, respectively.
Vehicle City Harley Davidson leased the four motorcycles to the city for two years starting in April 2011 at a cost of $1,800 per motorcycle per year. The agreement included an option allowing the motorcycles to be purchased at the end of the lease for $14,500 per motorcycle.
Thomas Gibbons, the city's financial analyst for the fleet and facility unit, said the company agreed to waive the second year lease payments and reduce the purchase price to $14,000 per bike.
With the anticipated revenue from the scrap sale and the waiver of the second year of the lease payments, Gibbons said, it works out better for the city financially to purchase the two motorcycles and sell them for scrap than to pay for repairs and try to return them at the end of the lease.
Funding for the $28,000 purchase is coming out of the police department's budget. Proceeds from the scrap sale and funding from an insurance fund will be used to partially offset the expense.
Matt Kulhanek, the city's fleet and facilities manager, said it's hard to say what the scrap value might be but he guessed maybe $5,000. He said insurance will cover the full amount of the city's costs, less the revenue from the scrap sale and a $1,500 per vehicle deductible.
Police Chief John Seto said accidents involving the police department's motorcycles are rare. He said the department's motorcycle program has been in place for many years and the most recent program with the use of Harley Davidson motorcycles goes back to 1999. Until the two recent incidents, he said, there had been no other accidents requiring any major repairs.
Seto said the first accident in May involved a veteran police officer receiving advanced training in motorcade escort at a Michigan State Police training facility.
He said the police department often is asked to provide escorts, such as during presidential visits, and advanced training is required for officers to work with state police and Secret Service.
The second accident in July involved a newly selected motorcycle officer who was being trained and prepared by one of the department's in-house motorcycle instructors. Seto stressed that sufficient training is necessary for safe operations during patrol and special details.
Seto said neither officer involved was driving recklessly or reprimanded, but one of the officers was injured in one of the accidents and placed on "light duty" for a while.
The police department has protocols in place whereby all police accidents, including those involving motorcycles, are reviewed by a supervisor and a crash review board. If an officer is found at fault, a personnel complaint is initiated and discipline can include driver refresher training.
Seto said the riding season is over, so the two damaged bikes will not be replaced until the next riding season. He said it's the police department's intention to maintain a fleet of four motorcycles.
"It just provides versatility in our patrol operations," he said. "They're used for patrol functions just like a regular vehicle and they're use for special detail. They're great to have."
Additionally, Seto said, the department's motorcycle unit is reviewing other options for police motorcycles that might be safer to operate.
Ryan J. Stanton covers government and politics for AnnArbor.com. Reach him at ryanstanton@annarbor.com or 734-623-2529. You also can follow him on Twitter or subscribe to AnnArbor.com's email newsletters.