Posted on
Tue, Jul 19, 2011 : 1:41 p.m.
Ann Arbor to plant 1,200 new trees along city streets, encourages residents to water them
By Ryan J. Stanton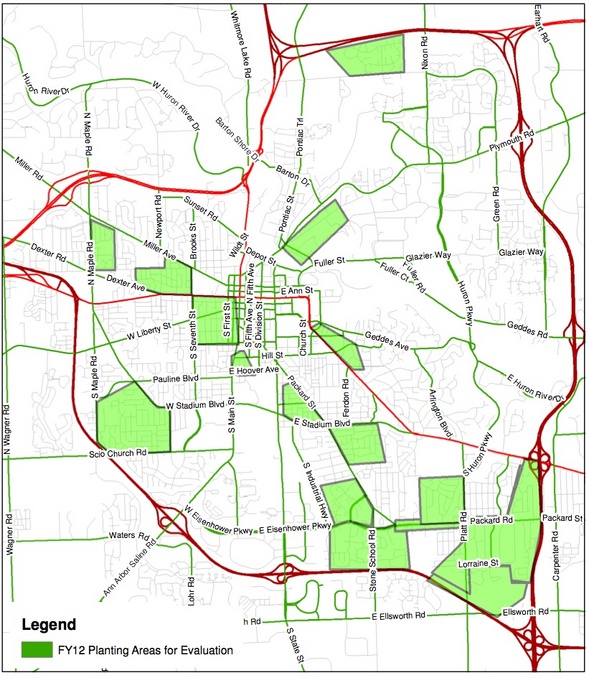 A total of 1,200 trees will be planted along city streets following the
Ann Arbor City Council's
approval Monday night of a
$301,475 contract
with the
Marine City Nursery Co.
The trees are expected to be planted along street right-of-ways in the Malletts Creek, Allen Creek, Traver Creek and Swift Run drainage districts — partly an effort to reduce stormwater runoff and improve the quality of runoff that reaches local streams and the Huron River.
City officials said a tree-planting plan was developed focusing on areas with at least one of the following characteristics: low canopy cover, large areas of impervious surfaces, significant impact by the emerald ash borer, or an aging tree canopy.
Two bids were received for the project, but city officials determined only one to be a responsible bidder — the Marine City Nursery Co. of China Township, Mich.
The overall project budget is $319,475 and funds are coming from the stormwater capital budget, according to Kerry Gray, the city's urban forest and natural resource planner.
Ann Arbor's public trees intercept 65 million gallons of stormwater each year, according to the city's i-Tree Streets Analysis report from 2009.
The city is in the middle of developing a comprehensive urban forest management plan that's expected to be adopted by the City Council sometime next year.
The city took inventory of all city-owned trees in 2009 as the first step in developing the plan. The city contracted with the Davey Resource Group, which found the city owned 40,749 trees along streets and 6,610 in parks. Additionally, there were 8,853 potential planting sites identified, and 843 locations where there were stumps.
According to the inventory, about 37 percent of the city's trees are maple, 8 percent are honeylocust, 7 percent are oak, 6 percent are crabapple, 5 percent are linden, 4 percent are spruce, 4 percent are pine, 4 percent are sycamore, 3 percent are elm and 2 percent are pear. The inventory lists another 20 percent as being "other."
City officials acknowledged at Monday night's council meeting they're still catching up after many trees throughout the city were lost in recent years due to the emerald ash borer.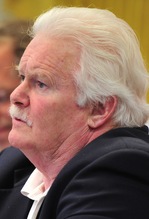 "We all knew it was going to take a long time to replace — I think it was up to 10,000 trees on city property — but that effort has been coming along well over the years," said Mayor
John Hieftje
. "Unfortunately, it's going to take them a while to grow."
Since 2005, the city has planted nearly 5,000 trees along streets and in parks to replace both ash trees lost to the emerald ash borer and other street trees that died or were removed for a variety of reasons, according to information on the city's website.
Council Member Mike Anglin, D-5th Ward, said he's hearing out in the community that some residents aren't properly watering trees after they're planted by the city.
"I think that's very short-sighted," he said, suggesting a little bit of water to keep the trees alive is the least residents can do after the city plants them.
"So if there are people out there with that concern, that you're not going to water it, it's good you call the city because it's silly for us to put that investment in and have it sabotaged," Anglin said, getting an agreeing nod from the mayor.
"I think particularly for the first couple of years, trees need all the attention people can give them, and water particularly during these dry periods is very important," Hieftje said. "And if they're not going to do that, it'd be nice of them to let us know in advance."
A tree-planting guide available on the city web site recommends that once a tree has been planted, it should be watered once a week in dry conditions during the first two summers and into the fall, and then once a month the following two summers.
Ryan J. Stanton covers government and politics for AnnArbor.com. Reach him at ryanstanton@annarbor.com or 734-623-2529. You also can follow him on Twitter or subscribe to AnnArbor.com's e-mail newsletters.