Posted on
Fri, Nov 6, 2009 : 3:50 p.m.
Ann Arbor to provide $159,000 for emergency shelter for homeless
By Ryan J. Stanton
Ann Arbor's growing homeless population will have a few more warm beds to sleep in this winter, city officials announced Thursday night.
The City Council voted unanimously to approve a $30,500 contract with the Shelter Association of Washtenaw County and a $129,000 contract with the Interfaith Hospitality Network to provide short-term housing and shelter with support services to homeless individuals and families living in Ann Arbor.
The $159,500 appropriation will come from the Ann Arbor Housing Trust Fund.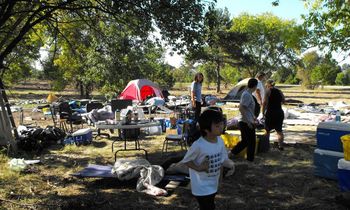 File photo
The Office of Community Development, which appeared before the council to make the request, has been working with nonprofit providers to develop a short-term response to the unprecedented rate of homelessness in the community.
"Sometimes government isn't here to solve all the problems at once, but we can focus on crisis intervention," said Council Member Sabra Briere, D-1st Ward. "We're not solving the problem. What we're doing is crisis intervention."
Mary Jo Callan, community development director, said the city has experienced a sharp rise in homeless people needing help from the local sheltering system, and there appears to be an increased incidence of homeless encampments in and around Ann Arbor. She said the coming winter creates a potentially dangerous situation for those sleeping outside in tents or their cars.
City officials said they know that the emergency measure is only a stopgap solution and permanent affordable housing -Â not temporary shelter - is what's really needed to address the problem of homelessness.
"It's not going to solve our issues by any means, but it does begin to scratch the surface a little bit," said Council Member Sandi Smith, D-1st Ward.
Callan said the local emergency shelter system is working to ensure that individuals, families, and youth experiencing homelessness have access to needed shelter and support this winter. The system currently maintains 189 beds for those experiencing homelessness, but demand exceeds that capacity.
Using the funds appropriated by the city, along with other contributions expected from the county and the Downtown Development Authority, the Shelter Association plans to increase its annual rotating winter shelter to provide an additional 50 spaces for homeless individual adults needing emergency overnight shelter.
Half of those spaces will be provided by adding cots to the second floor of the Delonis Center, and an additional 25 spaces will be provided using space within local faith congregations on a rotating basis. The extra beds will be offered from Dec. 1 through March 31.
"That is just about a doubling of what the homeless shelter does," Mayor John Hieftje said at Thursday's meeting.
 
For families experiencing homelessness, IHN will work with Avalon Housing and other local landlords to provide eight year-long housing vouchers. Those subsidies with support services will maximize the ability of parents to move beyond homelessness while providing safety and stability for their young children.
Callan said the community is receiving about $800,000 in Homelessness Prevention and Rapid Re-Housing funds over the next two years to help people who are homeless or at imminent risk of losing their housing.
At the start of Thursday's council meeting, local resident Seth Best spoke of his plight with homelessness and joblessness last winter in Ann Arbor.
"I was homeless last year and utilized the services there at the Delonis Center," he said. "With winter rapidly approaching and as someone who did spend last winter out in the cold ... I know the great need that they have to have more beds available."
Brian Nord, a Camp Take Notice supporter and advocate for the homeless, also told city officials he appreciated their support - but he called it a stopgap measure that doesn't provide a long-term solution.
Officials say the challenging economic climate has had broad-reaching negative impacts on Ann Arbor residents. The local poverty rate, including college students, is nearly 25 percent, and the unemployment rate is 9.3 percent, Callan reported.
"I think it's time that we started to look outside of the box on how we address this," said Council Member Marcia Higgins, D-4th Ward, encouraging the city to look into other partnerships beyond what currently exists.
Hieftje also encouraged Ann Arbor's faith-based community to step up and double the amount of help it gives and provide more beds this winter.
Ryan J. Stanton covers government for AnnArbor.com. Reach him at ryanstanton@annarbor.com or 734-623-2529.