Posted on
Thu, Jan 27, 2011 : 6:03 a.m.
Ann Arbor Transportation Authority unveils three options for master transit plan
By Tom Perkins
Fred Beltrandi arrived for a meeting at the Ann Arbor Transportation Authority's business office shortly after his flight from London landed. The price of his ride to Ann Arbor with the Metro Car private ride service — $65.
That service is one of the few options available to Ann Arbor travelers to get to or from Detroit Metro Airport without their personal cars. But that could change — an hourly shuttle bus to the airport is included in each of the AATA's three proposed scenarios being considered in its new master transit plan.
Throughout the next several weeks, AATA officials will meet with residents at 20 community forums throughout the county to seek input on the three proposals. Residents will also be able to access the plans and provide input online.
At the conclusion of the meetings, the AATA board will consider the feedback, select a scenario, and begin work on implementing one of the plans.
"We want people, when they open up this plan, to say 'Yeah, I suggested this, this is a good idea,'" said Michael Benham, special assistant for strategic planning at the AATA. "We want to hear from the entire community. We want everyone's fingerprints on this."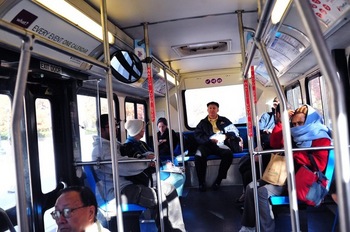 The three scenarios call for vast improvements to the AATA system over the next 30 years and are the product of nearly a year of soliciting public input and working with transportation consultants Steer Davies Gleave, the firm in which Beltrandi is a director.
The three plans build on each other — from a more basic option aimed at improving the system's current infrastructure to a more advanced plan that involves using transit to help steer "smart growth" and more compact land use throughout the county.
During their "visioning process," AATA officials found residents expressed concern over several issues:
Insufficient access to vital transit lifelines.
An increase in highway congestion.
Lack of connectivity to support regional economic activity.
Increased mobility for an aging population.
A limited amount of appeal in public transportation to those who have the option to use their own car.
Components of each scenario seek to address those issues.
What's still missing is a cost estimate for each. AATA officials said Wednesday that they hope to be able to provide cost estimates for each scenario this week.
The "lifeline plus" option is the most basic and focuses on improving existing service lines and access to the system for seniors and disabled people. The plan calls for five- to 10-minute ride frequency on core routes during peak hours and 20-minute ride frequency on non-core routes during peak periods.
Currently, buses arrive at stops every 20 minutes on core routes during peak hours and every 30 to 60 minutes throughout the rest of the system. The hours of operation would also be expanded. An investment in bus stop improvements would mean more sheltered stops, more information at stops and real-time statuses at busier stops.
The AATA would implement a localized connection service throughout Chelsea, along with a similar service connecting "key destinations" in downtown Ann Arbor. That program would be similar to the former LINK service, officials said.
Disabled and elderly riders would also see hours of the "door-to-door service" extended, and the program would be expanded to include riders countywide.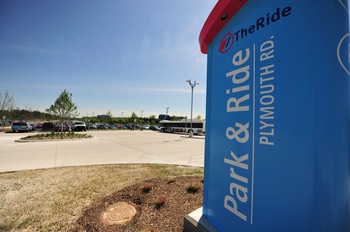 The new park-and-ride lot on Plymouth Road at US-23 has seen heavy use since it opened. It offers 260 spaces of free parking.
Also included in the lifeline plus checklist are five new park and ride lots on the edges of Ann Arbor and Ypsilanti; a significant expansion of community and employer led car/vanpool programs, which are now largely connected with the University of Michigan; and 20 miles of new bike paths countywide.
Residents in Dexter and Chelsea would see the installation of transit hubs in their downtown area, which would serve as a "high quality" access point to public transportation.
Benham said officials envision clean transportation centers where people go even when they're not catching a bus. He said the centers could include some retail or other attractions.
"Traditionally, transit facilities have been a focal point of a community, a place where people not only go to get on a bus or train, but go as a destination for other reasons," he said. "Our plans emphasize finding opportunities to use transportation centers as a focal point for community, as opposed to just transportation."
The "accessible county" plan includes everything listed in the lifeline plan and builds on it. In addition to the transit hubs in Dexter and Chelsea, the AATA would also create them in Saline, Manchester, Milan and Whitmore Lake. The express service currently available for riders in Chelsea and Canton would be expanded to include those cities with the transit hubs, and Dexter and Saline would see local circulators like that planned for Chelsea.
Benham said the ridership on Chelsea's express bus increased by 11 percent last year, and express buses serving the rest of the county's small population centers are in demand.
"I get requests on a regular basis for that kind of service," he said "It's a little frustrating to not be able provide a little bit more service because there seems to be quite a need for it."
The AATA would seek to further develop a countywide flex-ride program, which picks up individuals at their homes and takes them to a transit line. For example, if someone lived five miles outside Manchester, they could — for a higher fee — use the flex-ride service to get a personal ride to the transit station in Manchester. From there, the person could connect to nearly any point in the county.
Part of that service — and similar ideas for the less urbanized parts of the county — would likely be coordinated with smaller, localized transportation services in each community.
"We would be foolish not to use them. They know the lay of the land already," Benham said, referring to programs like Chelsea WAVE and Manchester Senior Services.
Under the "smart growth" scenario, all components of the previous two plans would be implemented, along with a high-capacity transit system. That feature would create "high frequency" service along the busiest corridors.
Examples the AATA listed included rapid bus transit, trams or street cars.
The AATA would also look to partner with planned rail lines, such as the WALLY line that would run north-south between Howell and Ann Arbor, and the east-west Ann Arbor-to-Detroit commuter train.
Benham said details on how the AATA might partner with rail lines are not yet available. But creating a backbone of transportation along the lines could significantly increase compact development, which provides countless benefits over sprawl, he said.
"There's a relationship between compact land use and transit," Benham said. "Transit will benefit from compact land use … and by the same token, transit encourages compact land use. We like to point to transit as a catalyst for smart development."
Benham acknowledged the future of rail lines is uncertain, but said inclusion of the lines in the plans is an endorsement and demonstrates the AATA's confidence that the lines will soon be built.
Other components included in all three scenarios are vehicle improvements and integrated ticketing.
Officials say funding for any of the plans selected would come from a mix of local, state and federal sources.
Tom Perkins is a freelance writer for AnnArbor.com. Reach the news desk at news@annarbor.com or 734-623-2530.