Posted on
Mon, Dec 10, 2012 : 4:50 p.m.
Ann Arbor passes resolution objecting to Washtenaw County's inclusion in regional transit authority
By Ryan J. Stanton
The Ann Arbor City Council unanimously voiced its objections to Washtenaw County's inclusion in a new Southeast Michigan Regional Transit Authority at a special meeting Monday.
Mayor John Hieftje called the meeting to consider a resolution protesting enactment of the Regional Transit Authority Act under Senate Bill 909, which passed through the state House last week.
Hieftje and other council members want Gov. Rick Snyder, who has pushed hard to get support in the Legislature for an RTA in the lame duck session, to see to it Washtenaw County is removed from the picture. The council backed away from asking Snyder to outright veto the legislation, instead asking the governor and Legislature to amend it to remove the county.
Council Member Chuck Warpehoski, D-5th Ward, said he was willing to support the county's removal, but he still hopes the RTA will succeed in Wayne, Oakland and Macomb counties.
"I want to see the RTA succeed in those three areas," he said. "And seeing the arm twisting it took to get it through at all, I don't want to see the RTA jeopardized for those three areas."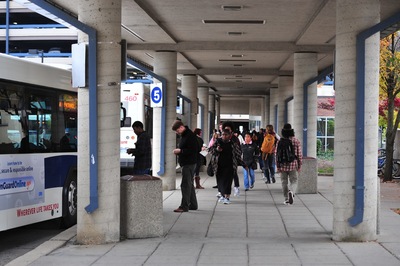 Ryan J. Stanton | AnnArbor.com
Ann Arbor officials welcome a provision that allows adjacent counties to join the RTA when they desire, but they oppose including Washtenaw County from the start.
The resolution was approved in an 11-0 vote of the council. It was sponsored by Hieftje and Council Members Marcia Higgins, Stephen Kunselman and Sabra Briere.
The state House last week passed SB 909 with immediate effect to create the four-county RTA, including Washtenaw, Wayne, Oakland and Macomb counties, despite objections from Ann Arbor and the Ann Arbor Transportation Authority. Ann Arbor officials point out the legislation includes mandatory compliance requirements for local transit operators in the region, including AATA.
Hieftje said at Monday's meeting he feared millions of dollars in federal funding the AATA gets would have to first pass through the RTA under the legislation approved by the Legislature.
The council's resolution argues the AATA is a well managed and fiscally sound transportation authority with an excellent track record of securing Federal Transit Administration funding, exemplary performance and a strong working relationship with federal officials.
"The AATA will be subject to the RTA Board, a new governmental entity with no track record, no relationship with FTA officials, a geographic area with a larger population and less evolved transit infrastructure, resulting in diminution of the consideration of AATA's priorities for meeting our transit needs," the council's resolution states, objecting to linking the AATA with the RTA.
The council's resolution also notes local officials are in a planning process to determine Washtenaw County's transit needs with a focus on the urbanized area of the county. That follows the recent consideration and rejection of creating a countywide transit authority.
City officials fear Washtenaw County's funding could support transportation service outside of the county disproportionate to what it would receive under an RTA.
Council Member Sumi Kailasapathy, D-1st Ward, said she didn't feel comfortable linking the issues of the RTA and regional commuter rail in the resolution.
Council Member Jane Lumm, an Independent who represents the 2nd Ward, said she agreed with Kailasapathy and wanted supportive statements about regional rail removed.
"To me, these whereas clauses perpetuate this 'we want everything' notion," Lumm said, voicing her concerns that the city has too many transportation initiatives under way.
After some debate, the council voted 6-5 to keep a sentence in the resolution that opined SB 909 contains "onerous and offensive provisions" related to consideration of regional rail projects.
Council Members Kailasapathy, Lumm, Briere, Sally Hart Petersen and Warpehoski wanted that statement removed, but they were outnumbered.
A majority of council members further agreed it was OK to include a less-opinionated clause that stated SB 909 limits the transit options available to Southeast Michigan and does not acknowledge the readiness to further commuter rail service from Ann Arbor to Detroit.
The Washtenaw County Board of Commissioners adopted a resolution Nov. 7 indicating Washtenaw County should have control of any transportation funding that is designated for the county and that the county's voters should determine when to join a regional transit authority.
County Board Chairman Conan Smith, D-Ann Arbor, was in attendance at Monday's meeting. He has been at odds with city officials and supports the county's inclusion in the RTA.
State Rep. David Rutledge, D-Superior Township, said before Monday's meeting he's hopeful a solution can be found for regional transit one way or another.
"Like most of my colleagues in the Legislature, I'm very supportive of regional transit in concept, and I believe everyone in the region, and in particular the people of the eastern portion of Washtenaw County, could benefit greatly from more creative approaches to expanding transit options," he said.
"However, I do understand the concerns raised by many in the city of Ann Arbor, and I agree that it's vital that we first understand exactly how the RTA would impact our county before we move forward," he said. "My hope is that a solution can be reached that would benefit all residents of our region, including the eastern portion of Washtenaw, the city of Ann Arbor, and surrounding communities."
Ryan J. Stanton covers government and politics for AnnArbor.com. Reach him at ryanstanton@annarbor.com or 734-623-2529. You also can follow him on Twitter or subscribe to AnnArbor.com's email newsletters.