Ann Arbor Veterans Affairs to hire more mental health staff for Michigan services
Posted on Mon, Jun 18, 2012 : 5:58 a.m.
As a part of a nationwide strategy to bolster mental health services for veterans, the Veterans Affairs Ann Arbor Healthcare System will be hiring 21 clinicians over the next six months.
Across the country, the Department of Veterans Affairs recently announced it would be adding about 1,600 mental health clinicians and about 300 support staff positions.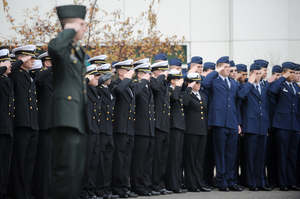 Melanie Maxwell I AnnArbor.com
The VA Ann Arbor Healthcare System has been implementing a "systematic expansion" of mental health services in the past several years, said director
Robert McDivitt
, "… and this is the next step in this journey."
Since 2009, the VA has increased its budget for mental health by 39 percent, partially in response to the 35 percent increase in the number of veterans receiving mental health services since 2007.
The additional funding and staff, both in Michigan and in the U.S., will allow for better individualized care and further development of Post-Traumatic Stress Disorder treatments.
The VA Ann Arbor Healthcare System serves the Lower Peninsula of Michigan and employs 151 mental health clinicians.
The national directive to hire additional staff will result in a net increase in nine positions in the healthcare system, as retirements and turnover occurs this year, McDivitt said.
Additions to the staff include seven social work case managers and two psychologists.
The hirings will allow the system to better manage its complex, high-intensity outpatient programs, substance use disorder clinic and PTSD clinic, McDivitt said.
The healthcare system gets the bulk of its funding federally appropriated, and has already been allocated the funds needed to hire more staff.
The allocation allows the healthcare system "to continue a journey we've been on in the last several years: Recognizing the needs of our returning combat veterans," McDivitt said.
About 25 to 30 percent of the veterans of the wars in Iraq and Afghanistan have reported symptoms of a mental disorder or cognitive condition, according to the National Survey on Drug Use and Health, issued in 2008.
New hires will be spread across the healthcare system's locations in Ann Arbor, Flint, Jackson and Toledo. Job listings will be posted online.
In the 2012 fiscal year, the system expects to serve almost 60,000 veterans - 10,000 more than it served in 2011, McDivitt said.
The fastest-growing clinic has been Flint, McDivitt said, which has reported a 12- to 14- percent increase in the number of new veterans it serves in the past year. Ann Arbor has seen an increase of 2-3 percent.
The populations of new cases are both a generation of veterans returning from the global war on terror and an aging group of Vietnam-era veterans, McDivitt said.