Posted on
Tue, Aug 23, 2011 : 5:57 a.m.
Ann Arbor voters will be asked in November to remove city administrator from pension board
By Ryan J. Stanton
Ann Arbor voters will be asked in the Nov. 8 general election to approve a city charter amendment changing the makeup of the city's retirement board.
The most notable change is the removal of the city administrator, a move recommended years ago by a blue-ribbon committee that studied the city's pension system.
The question that will go before voters in November maintains nine members on the board, which oversees the city's pension system, but calls for a few changes.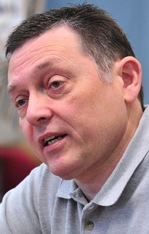 "The changes here that are being proposed and are being put in front of the voters, I think, should go a long way to establishing a board that has a little bit more independent oversight," said City Council Member
Stephen Rapundalo
, D-2nd Ward, "and by virtue of that, should provide a little bit more transparency and minimize hopefully at least the perception of conflicts of interest for those sitting around that table."
Of the current nine-member board, four are elected to their position, two serve by virtue of their city offices and the remaining members are appointed by the City Council.
With the changes, the city administrator no longer would serve on the board but the city's chief financial officer, referred to as the "controller," would continue to serve. The number of citizen trustees appointed by the City Council would increase from three to five.
Meanwhile, the police union would have one trustee elected by its members, and the firefighters union would have one trustee elected by its members. Lastly, the number of trustees elected by general city members, including retirees, would decrease from two to one.
In 2005, a blue ribbon committee formed by the mayor and City Council issued a report recommending changes in the makeup of the board, including removing the city administrator, citing concerns that a majority of the nine board members were direct beneficiaries of the retirement system. The City Council never acted on those recommendations until last week when it voted unanimously to place the charter amendment on the Nov. 8 ballot.
The resolution was sponsored by Council Members Marcia Higgins, Christopher Taylor and Rapundalo. Higgins noted the city's unions will need to agree to the language as well, even if the charter amendment is approved by voters in November.
Roger Fraser served on the retirement board before retiring as city administrator in April and moving on to a new position with the state. According to an AnnArbor.com analysis, Fraser was eligible to receive a pension worth more than $41,000 annually after his nine-plus years of service, in addition to a year and nine months of military service that was factored in.
Based on a recommendation by Fraser and the retirement board, the City Council voted in January on changes to the city's pension ordinance to establish a "pension adjustment account" to fund future cost-of-living adjustments for city retirees.
Cost-of-living increases were discretionary before, but now retirees, including Fraser, are guaranteed a boost in their pension every July 1, after they've been retired for five years, so long as the pension system is fully funded and meeting financial performance targets.
City officials said in April the pension system was about 90 percent funded after a dive in the financial markets but that it was building back up.
Steve Powers, who currently serves as Marquette County's administrator, is expected to take over as Ann Arbor's city administrator on Sept. 15. Under his negotiated contract with the city, he won't get a city pension, but he will be enrolled in a 401(a) plan where the city will contribute 15 percent of his annual salary each year in which Powers contributes 7.5 percent.
Ryan J. Stanton covers government and politics for AnnArbor.com. Reach him at ryanstanton@annarbor.com or 734-623-2529. You also can follow him on Twitter or subscribe to AnnArbor.com's e-mail newsletters.