Posted on
Thu, Sep 1, 2011 : 2:48 p.m.
Ann Arbor warns University of Michigan football fans to expect 'excessive traffic delays' on Saturday
By Ryan J. Stanton
Ann Arbor officials said today those attending University of Michigan football games this season at the Big House should expect "excessive traffic delays."
They're blaming it on U-M's decision not to cover the full cost of traffic control services — specifically manual management of signs and signals — provided by the city in years past.
But the university is firing back and complaining it's actually the excessive compensation the city is asking U-M to pay for the city's signs and signals technicians that's the problem.
"We've simply been unable to reach agreement regarding the rate of compensation and so therefore we've been a little bit more selective in terms of the services we're willing to reimburse the city for," said Jim Kosteva, a university spokesman.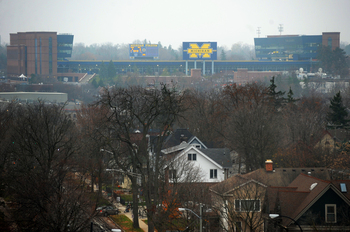 Melanie Maxwell | AnnArbor.com
Saturday's 3:30 p.m. game against Western will be the first university event to operate under a reduced traffic control plan outlined in a
new agreement reached last week
.
City officials have complained it was costing the city about $100,000 a year to provide signs and signals services on game days and those costs were not being reimbursed by U-M.
The Ann Arbor City Council unanimously passed a resolution last month requiring U-M to reimburse the city or accept the fact that signs and signals services wouldn't be provided this season. But the deal reached last week covers only a limited range of services.
Tom Crawford, the city's chief financial officer and interim city administrator, estimates the city will collect about $22,000 from U-M for the reduced signs and signals services this season — less than a quarter of what the city estimates it's spent in previous years.
"We're providing what they're asking for and what they're asking for is less than what we've done," Crawford said. "It's their choice."
Kosteva argues nothing in the new agreement precludes the city from providing the level of services it thinks is necessary to ensure public safety and welfare. That said, he argues the city is choosing the level of services to be provided, not U-M.
"The agreement outlined what the university was willing to pay based upon our evaluation of the primary needs of our patrons and considering the excessive rate of compensation the city has been seeking," Kosteva said, agreeing there will be traffic delays.
"I think it's prudent for people to follow some of the advice offered by the city and to expect for it to take some time," he said.
The new traffic control plan will have the city's police officers manually managing — without signals in operation — the Stadium Boulevard and Main Street intersection starting two hours before game time. All other intersections along Ann Arbor-Saline Road will operate by signals — not manually — and will operate based on the normal weekend schedule.
After the game, Ann Arbor-Saline Road will be one way, heading south to I-94, as has historically been the case. But the State Street corridor will operate by signals — not manually — and will operate based on the normal weekend schedule both before and after the game.
Compared to what residents and visitors have previously experienced, the new traffic control plan is expected to create additional traffic congestion at major arteries and the freeway ramps, city officials said. Residents and visitors are advised to find alternative routes on game days, and those attending the game are advised to plan for extra travel time.
Kosteva said the university has been concerned that the city's straight-time payment schedule for signs and signals technicians is about equal to the overtime rate of the police officers who are in the streets working the game-day traffic detail. The city and U-M have had an agreement in place for several years to cover public safety costs on game days.
On top of the cost of salaries and benefits for signs and signals technicians, Kosteva said the city is asking U-M to pay administrative overhead rates that, by comparison to overhead rates for police traffic control services, seem unusually high.
Documents provided by the city show the per-hour cost U-M is being charged for each signs and signals technician works out to $87.30, including $27.48 for salary, $15.35 for benefits and $44.48 for support costs. That means the support costs — which include administrative overhead, equipment and other items — equal 104 percent of salary and benefits.
Meanwhile, the per-hour cost U-M is being charged for each city police officer doing traffic control works out to $88.73, including $53.59 for salary at the overtime rate, $9.89 for benefits and $25.25 for support costs. Support costs equal 40 percent of salary and benefits.
If the signs and signals technicians were being paid at an overtime rate — which they're not — support costs would be equal to 92 percent of salary and benefits.
Due to expensive equipment and a fewer number of employees, Crawford said it just works out that support costs naturally are a higher percentage for signs and signals.
Crawford said eight signs and signals technicians will be out doing traffic control on game days this year, but they'll be doing less work. In the past, the city had all 12 of its technicians out.
City officials said the night game against Notre Dame on Sept. 10 is the only exception to the traffic plan. For that game, the full range of services historically provided both before and after the game will be in effect along Ann Arbor-Saline Road and State Street.
Kosteva doesn't think the situation will be too bad this season.
"We expect that our patrons will both continue to have a very first-class, satisfactory game day experience while this provides flexibility for the university to reimburse the city for what we consider to be the primary needs of those patrons," he said.
Ryan J. Stanton covers government and politics for AnnArbor.com. Reach him at ryanstanton@annarbor.com or 734-623-2529. You also can follow him on Twitter or subscribe to AnnArbor.com's e-mail newsletters.