Posted on
Fri, Jul 5, 2013 : 5:59 a.m.
Ann Arbor woman joins a unique Peace Corps minority as she departs for Philippines
By Ben Freed
While most Americans spend their Fourth of July enjoying parades and celebrating America, Sandra Bowers was packing to leave it behind for a bit.
Bowers was learning to travel light as she prepared to leave July 5 for the Philippines, where she will spend two years as part of the Peace Corps.
"My goal is to fit everything into one bag and one backpack," she said. "I hear that once you're there it can get tough to lug everything from place to place."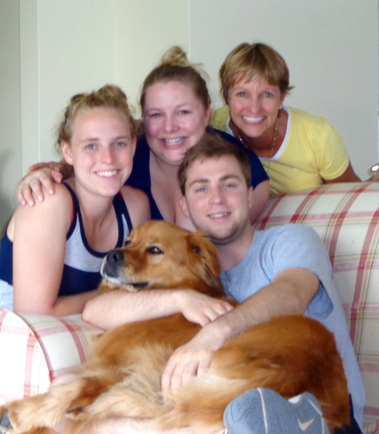 Courtesy Sandra Bowers
While the Peace Corps is not an unusual calling for an Ann Arbor resident just graduating from one of the local universities, Bowers is part of the 7 percent of corps volunteers over the age of 50.
"Older volunteers really bring their career and life experiences to the corps in a way that's different and so valuable,"said Jessica Mayle , regional Peace Corps coordinator.
"You can't overemphasize this enough. It's really hard to commit to two years whether you're 25 or 55 and it's a big experience. Those volunteers who are able to do it really make a difference in such a big way."
President John F. Kennedy first proposed the idea for the Peace Corps on the steps of the University of Michigan's Student Union where today, a medallion on the ground marks the spot where he stood. Mayle said many of the older volunteers where first inspired into service by his words.
"It's often people who are stable, have grown kids, and they can pursue this dream they've kept in the back of their heads their whole lives," Mayle said.
"For a lot of people this is something they wanted to do in their 20s but weren't able to. It's definitely a different path from people in their 20s right now who are maybe very ideological or don't want to start a career right away."
Bowers, who previously worked with special education students in the Ann Arbor Public Schools, is doing the volunteer work as part of a masters in social work program at U-M. She has gone to school for one year, will complete two years abroad and then come back to do one more year before receiving her degree.
"I was the last person in my School of Social Work group to get placed but I was so excited when I heard I'd be going to the Philippines. I couldn't have asked for a place I'd rather go," she said.
Once she arrives in the Philippines, Bowers will complete three months of training and then likely will work with youth education and development programs.
"I have done volunteer and service work before but nothing this long-term or international," she said.
"I have three children, and they're at the point in their lives where my role as their mother is changing. So I felt I had the window of opportunity to do something that wasn't necessarily focused around them."
Her exact placement will not be determined until after she arrives in the country, but Bowers says she knows she could end up in a wide variety of communities. The Philippines is home to Manila, one of the most densely populated cities in the world, as well as very rural coastal communities.
"Throughout the country, most places have pretty good technology, but I don't know for certain how connected I'll be," Bowers said.
"The closest internet connection could be in a cafe a number of miles away or down the street. I will have a phone, and I've also already given my contact information to friends and family to send me care packages. I'm like one of the kids going off to camp."
Peace Corps volunteers earn two days of vacation every month that Mayle said can be used to travel in the region where the volunteer is stationed or to make a trip back to the states if necessary.
"I won't be coming home unless there's an emergency," Bowers said. "But the goal is definitely to have all of my children come and visit me at some point."
Ben Freed covers business for AnnArbor.com. You can sign up here to receive Business Review updates every week. Get in touch with Ben at 734-623-2528 or email him at benfreed@annarbor.com. Follow him on twitter @BFreedinA2