Posted on
Thu, Sep 13, 2012 : 5:59 a.m.
Ann Arbor woman pleads guilty in drunken hit-and-run accident that left bicyclist seriously injured
By John Counts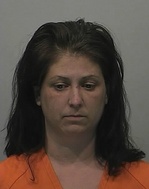 The Ann Arbor woman accused of seriously injuring a bicyclist in a drunken driving incident pleaded guilty and no contest to two charges Wednesday in the Washtenaw County Trial Court.
Kimberly Vernell Morse, 44, pleaded guilty to a charge of operating while intoxicated causing serious injury and no contest to failing to stop at the scene of a serious personal injury accident. A third charge of operating while intoxicated will be dismissed at sentencing.
Judge Archie Brown agreed to sentence Morse on the lower end of the guidelines, probably around 14 to 38 months in prison. The two charges are five-year maximum felonies.
Morse was visibly upset as she entered her pleas. The no contest plea came about on the second count because Morse doesn't remember leaving the scene.
"She doesn't have a recollection of striking anyone," said Morse's attorney, Richard Convertino.
Morse admitted in court that her blood alcohol content level was .24 percent when, around dusk on March 13, she struck Ann Arbor bicyclist William Pidgeon, 61, while on Dixboro Road in Ann Arbor Township and then left the scene. A state trooper later arrested her when she crashed again at U.S. 23 and North Territorial Road.
A Washtenaw County Sheriff's court officer, Joe LaFerier, was driving home that evening when he saw bike parts scattered on the southbound lane of Dixboro. LaFerier called 911, helped Pidgeon out of a ditch and waited until ambulances arrived to transport the injured man to the hospital. The Ann Arbor Bicycle Touring Society later honored LaFerier with an award for helping to save Pidgeon's life.
Pidgeon has recovered from the accident, but declined to be interviewed by AnnArbor.com.
Morse also was on probation at the time of the incident and pleaded guilty in court Wednesday to violating it. Morse, who is free on bond, is scheduled to be sentenced on all three charges at 1:30 p.m. Oct. 24.