Posted on
Fri, Sep 28, 2012 : 5:58 a.m.
Ann Arbor woman hopes stolen wedding ring will be recovered
By John Counts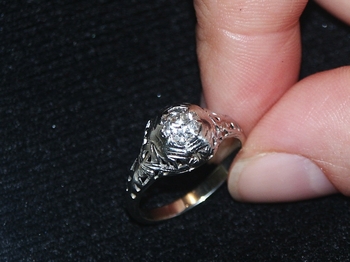 Courtesy of Lara Zisblatt
Thirty-four-year-old Lara Zisblatt wasn't too bothered that a suspected burglar made off with a few electronics from her Ann Arbor home Tuesday morning, but she is peeved that he swiped her wedding ring from the nightstand next to her bed.
"I'd be shocked if we got it back," Zisblatt said about the ring, which belonged to her husband's great-grandmother. "But I still have hope."
Zisblatt caught the suspect in the act at the home she and her husband, Ypsilanti dentist Ryan Sasaki, 35, rent in the 1800 block of Chandler Avenue. She said she was coming home from playing tennis around 10:45 a.m. when she saw a man walking across her driveway with a backpack, which looked like one that belonged to her husband.
When Zisblatt noticed the screen-door of the house was propped open, she realized it was Sasaki's actual backpack. They locked eyes.
"He was looking back at me, which made me think something was funny," she recalled.
The man - who she described to police as a black male wearing all black clothing - started quickly walking away.
Despite being six-months pregnant, Zisblatt started chasing the suspect down the street in her car.
"I just put the car in reverse and he ran," she said. "I was just hoping he would stop and drop the bag."
Zisblatt only followed him for a few houses before the suspect bolted up the driveway of a house, ran into a backyard and hopped the fence. She returned home and called the police.
The suspect seemed to have left before he was finished. Zisblatt said their two televisions and a lockbox were set by the door ready to be brought out when she walked in. The first thing Zisblatt did was check on the two Shih Tzu mixes that were in the house - one belonging to the couple, the other they were dog-sitting for.
At 13 and 17 pounds respectively, Zisblatt admitted the dogs probably didn't put up much of a fight with the burglar.
"I'm sure they both got a couple of pecks in and called it a day," she said.
When the dogs were deemed OK, Zisblatt inspected the damage. Her purse had been dumped on the couch. Papers were strewn all over her home office. A laptop, iPad, iPod and PlayStation were missing.
Also gone was a watch Sasaki gave Zisblatt when they first met and her wedding ring, which she had left at home while she played tennis because her fingers swell from the pregnancy.
The ring probably dates from about the 1920s. Zisblatt said it's worth infinitely more to her than it would on the streets.
"It's not worth a lot," she said.
Still, Zisblatt is holding out a slight bit of hope that if a picture of the ring was released, it could possibly be returned.
"Even though I know that it probably has been melted down for the little bit of gold already," she said.
Anyone with information on the break-ins is encouraged to call the Ann Arbor police anonymous tip line at 734-794-6939 or Crime Stoppers at 1-800-SPEAK UP (773-2537).
John Counts covers cops and courts for AnnArbor.com. He can be reached at johncounts@annarbor.com or you can follow him on Twitter.