Posted on
Mon, Jul 30, 2012 : 8:15 a.m.
Ann Arbor women set world record swimming English Channel
By Cindy Heflin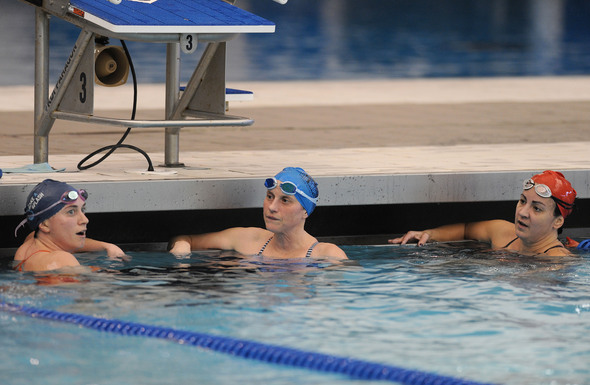 Angela J. Cesere | AnnArbor.com
It was a big goal. "The Mount Everest of swimming," Amanda Mercer said. Mercer was one of six women from Ann Arbor who left earlier this month to swim the English Channel and raise money for ALS (Lou Gehrig's disease).
But the women not only scaled their "summit," they did it in record time, breaking the world record for swimming the English Channel in a relay Friday night. Mercer did the swim after finishing chemotherapy treatment for breast cancer.
The relay team consisted of Amanda Mercer, Jenny Sutton Jalet, Melissa Karjala, Susan Butcher and Bethany Williston, all who live in Ann Arbor, and Emily Kreger, who moved from Ann Arbor recently to pursue a general surgery residency at the Detroit Medical Center.
The women swam the 42 miles across the channel in 18 hours and 55 minutes, 4 minutes faster than the previous record, the Detroit Free Press reported.
Mercer underwent surgery in March for an aggressive stage 2 breast cancer and finished 16 weeks of chemotherapy just before leaving for London for the relay swim, the University of Michigan said in a press release.
The relay team partnered with Ann Arbor Active Against ALS (A2A3), which was formed by friends of a University of Michigan professor who was diagnosed with ALS in 2008.
So far, the group has raised more than $80,000 for research and is still soliciting donations at its Web site, www.channelforals.org.
The women know first-hand the effects of ALS. Bob Schoeni, who is their friend and neighbor, inspired the formation of A2A3. Schoeni is 48 years old and four years into his diagnosis. He continues to work at U-M's Institute for Social Research and also coaches his 14- and 12-year-old daughters.
"We wanted to do something really big, to get attention and raise awareness about ALS and help Bob and his family," Williston said. "We hope this achievement, breaking the world record, will help researchers provide hope to those who are diagnosed with this disease."