Posted on
Sat, Feb 16, 2013 : 9:35 a.m.
Ann Arborites and University of Michigan students head to Forward on Climate rally in Washington D.C.
By Amy Biolchini
An Ann Arbor contingent of residents and University of Michigan students will trek to Washington D.C. this weekend to participate in a national Forward on Climate rally.
The rally is calling for the federal government to block proposed construction of the Keystone XL pipeline project that would carry tar sands from Alberta, Canada to refineries on the U.S. Gulf Coast.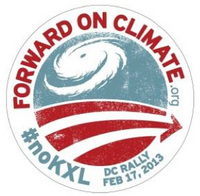 Monica Patel
, a policy specialist at the
Ecology Center
in Ann Arbor, coordinated a group from Washtenaw County traveling to the capitol for a rally in two buses.
They will join buses from Battle Creek, Detroit, East Lansing and Traverse City traveling to the rally, where people from 30 states will gather to call on President Barack Obama to reject the pipeline and continue to push for clean energy alternatives.
Activists will convene on the National Mall at noon Sunday.
"The reason that people are going is that it's a really exciting time," Patel said. "President Obama has mentioned now in two speeches."
Both U.S. Sens. Carl Levin, D-Michigan, and Debbie Stabenow, D-Michigan, are on important committees, Patel said, noting it's important for Michigan to show strong support.
Two buses are leaving at 10 p.m. Saturday from Ann Arbor and driving all night to Washington D.C. The rally is slated to start at noon and end at 4 p.m., after which the participants are slated to drive back to Michigan and arrive in Ann Arbor about 6 a.m. Monday.
"President Obama's been asking people to show that they care about issues," Patel said. "I think that this is going to do that for him on the climate: A lot of federal incentives packages have really made a difference for wind energy."
Among those traveling to D.C. is Lissa Spitz, who works at A3C, a sustainability-focused architecture firm in Ann Arbor.
"I would love to see a huge outpouring (at the rally) … It gives me a little more faith in people," Spitz said. "When I look at the general American population, I feel like they're either not aware, or don't have the energy or something to deal with it. … We really need political movement."
Spitz said regional transit efforts in Southeast Michigan have been poorly coordinated, and she hopes the rally will help heighten climate issues for lawmakers.
Karla Pena is a 26-year-old master's student at U-M's School of Natural Resources and the Environment.
She's coordinating a caravan of 12 students going to the rally that are involved with the Latin American Caribbean Environmental Group at U-M.
"It's powerful to be in a situation where you can make an impact just by the power of numbers," Pena said. "Here in Michigan we do have the wind power, and we're trying to diversify an energy matrix. We're trying to find alternative forms of energy and decrease energy consumption across the state."
The Keystone XL pipeline works against efforts in Michigan to use alternative forms of energy, Pena said.
Ryan Stock, 29, is one of the students traveling with Pena to D.C. He's a master's student working on a capstone project on climate change adaptations in the Great Lakes region.
"If students aren't willing to put ourselves on the front line of the issue, really, who will?" Stock said. "The Keystone XL pipeline will accomplish the opposite of energy security for this country."
Effects of climate change in the Great Lakes region have already been seen, Stock said: Increased acidification of lake water, decrease in lake levels and a heightened number of heat event days.
"Business as usual is both morally wrong and slow-motion suicide for human civilization as we know it," Stock said.
Stock said he believes environmental consciousness has become mainstream.
"What we're doing is just being responsible citizens," Stock said.
The rally is being organized by 350.org, the Sierra Club and the Hip-Hop Caucus.
Amy Biolchini covers Washtenaw County, health and environmental issues for AnnArbor.com. Reach her at (734) 623-2552, amybiolchini@annarbor.com or on Twitter.