Posted on
Tue, Nov 15, 2011 : 6:44 p.m.
Ann Arbor's 2nd Ward had highest turnout in last week's election
By Ryan J. Stanton
Jane Lumm's ability to get out the vote appears to have contributed to her victory last week in the 2nd Ward race for the Ann Arbor City Council.
The 2nd Ward had the highest turnout among all five city wards, with more than 20 percent of registered voters casting ballots, according to an AnnArbor.com analysis.
Lumm, who ran as an Independent, ousted Democratic incumbent Stephen Rapundalo by winning in all but two precincts.
Overall, about 11 percent of Washtenaw County's registered voters took part in last week's local elections, the second-lowest turnout in the past six years.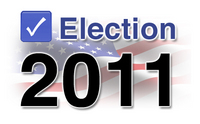 In Ann Arbor, about 13,451 voters — or about 14 percent of those registered — went to the polls. On the ballot were tax proposals, a city charter amendment, school board races and council races.
"For this kind of an election, it was an OK turnout," said County Clerk Larry Kestenbaum. "It was not a high turnout, but it was a lot better than it could have been. There was considerable interest in the city particularly, and the areas that had contested school board races."
In the 1st Ward, turnout was about 7.3 percent with about 1,430 people casting ballots. Turnout was less than 1 percent in some precincts.
In the 3rd Ward, turnout was about 12.8 percent with about 2,351 people casting ballots. Turnout ranged from 1.8 percent in some precincts to 19.1 percent in one precinct.
In the 4th Ward, turnout was about 13.6 percent with about 2,609 people casting ballots. In the 5th Ward, turnout was about 16.9 percent with about 3,573 people casting ballots.
About 3,488 people cast ballots in the 2nd Ward.
The Washtenaw County Clerk's Office reported 27,039 people voted countywide, but that includes 650 ballots from residents in Monroe, Jackson and Wayne counties who voted in school board races in districts that straddle the Washtenaw County line.
Kestenbaum said he doesn't place much value on comparing the actual ballots cast to the number of registered voters because of the amount of "dead wood" on the voter rolls, including people who no longer live in the county and people who haven't voted in decades.
Kestenbaum said he prefers to compare the number of ballots cast to the turnout in the last presidential election. In the case of the November 2008 election, 188,210 people went to the polls in Washtenaw County — more than seven times the amount seen last week.
Ryan J. Stanton covers government and politics for AnnArbor.com. Reach him at ryanstanton@annarbor.com or 734-623-2529. You also can follow him on Twitter or subscribe to AnnArbor.com's e-mail newsletters.