Posted on
Thu, Jan 3, 2013 : 5:59 a.m.
Ann Arbor's Cafe Marie establishes fund for longtime cook diagnosed with leukemia
By Danielle Arndt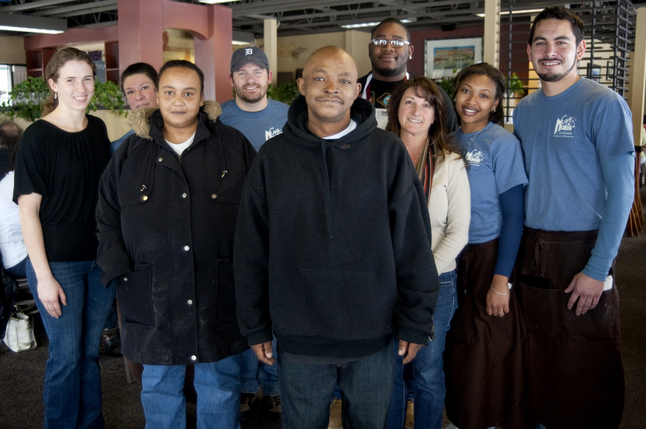 Joseph Tobianski | AnnArbor.com
For 12 years,
Percy Pryor
has been the man behind the griddle at
Cafe Marie
, quietly and humbly whipping up the "best darn eggs and omelets" customers ever tasted.
"Nobody makes eggs like Percy," said Patty Maher, who first was a customer before working at the cafe short-term earlier this year.
Jeanne Loveland, the owner of the Plymouth Road restaurant, said Pryor is the reason Cafe Marie has so many regulars.
"We have families that come in each and every week. People who I've watched their kids grow up," Loveland said. "And it's in part because (Percy) has it down to a science. … People come back week after week because we can get them in and out, with good food, even on a really busy Sunday morning."
Pryor holds the restaurant together, echoed server Joe McMurray.
"He's completely patient and has this totally positive energy and attitude that keeps everybody working together as a team," McMurray said.
Now, in light of a recent diagnosis, the team at Cafe Marie has found itself trying to hold it together for Pryor.
On Nov. 18, after rarely missing a day of work in 12 years, Pryor was diagnosed with acute leukemia, a form of cancer of the blood and bone marrow.
Loveland said throughout the month of November she and the staff began to notice changes in Pryor. He was losing weight quickly and became easily run down.
Loveland, who views Pryor as brother, said she kept encouraging him to see a doctor.
"He's just not somebody who stops," she said. "He's a go-getter who loves to work. He'd tell me, 'Nah, boss. I'm gonna be alright. I'll tough it out.'"
Two Saturdays in a row Pryor had to leave the line, overcome by weakness and dizzy spells. The second Saturday Loveland insisted he go home to rest.
"It just so wasn't like him," she said.
The next morning, Loveland picked up Pryor and his lifelong companion, Rachal Potter, and drove them to the University of Michigan hospital. They called her a few hours later with the diagnosis.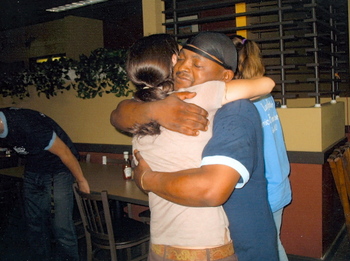 Courtesy photo
Pryor, 39, was saddened and shocked when doctors told him it was leukemia.
"Mostly because I feel real good most of the time," he said.
The staff at Cafe Marie perhaps was more devastated. "It was like a sucker punch to the gut," Loveland said.
Once the initial distress wore off, the restaurant's staff began brainstorming how to help. The cafe also learned Pryor and his family lost their housing shortly before the cancer diagnosis and stayed with relatives in Ypsilanti and in a hotel for short period of time. Pryor and Potter have three children.
Pryor likely will need a bone marrow transplant and being homeless could cause him to be ineligible for the transplant. Loveland said stable housing is a requirement.
Potter has been out of work for a number of years now. Cancer has taken its toll on both the Pryor and Potter families.
Pryor's aunt and mother both battled cancer. His mother died as a result. And Potter's grandmother also was ill with a form of cancer, so Potter has been acting as a caretaker for their family members and now Pryor himself.
"Percy would be the last person to ask for help. That's why we're doing it for him," Loveland said.
Cafe Marie is asking its clientele for donations to help Percy and his family with housing, utilities, food, medical bills and other life expenses.
A fund, "The Percy Pryor Fund," was set up through the Ann Arbor State Bank. A website also was established at YouCaring.com and there is a donation box out at the restaurant.
Loveland said it's so difficult to watch Pryor go through this illness.
"Percy's has always been there for me," she said. "He is dedicated and dependable."
Loveland was a manager at the cafe prior to buying it. The restaurant first opened in 1993. In 2006, Loveland renovated the building, adding on a patio, more seating and fresh paint.
She said the cafe stayed open during the day and crews worked into the evening on the renovations.
"We had to leave the doors open at night to air out the paint for business the next day. And Percy always volunteered to stay up here overnight to keep an eye on everything," Loveland said. "It was so reassuring to me. With him up here, I knew nothing would happen to the place. I knew I could trust him. He has always had the cafe's back."
The waiters and waitresses said Pryor's generosity never stopped at Loveland. He also helped to move several of his co-workers throughout the years and even helped to install a hot tub for another fellow employee, they recalled.
Loveland said what has been most amazing and rewarding is seeing the outpouring of support, love and appreciation customers have shown to Pryor throughout the past month.
The staff first placed fliers around the cafe asking for donations on Dec. 15. In that initial weekend, Cafe Marie raised $867. Since then, the restaurant has raised more than $1,900. Its goal is around $12,000.
"It's been incredible to witness the impact Percy has had on people — in ways I didn't even realize," Loveland said. "And he did it all so quietly and so graciously. … I have that much more respect for him."
At the restaurant, Pryor is known to say, "It can't get no better than at the Cafe Marie."
The "Percy-ism" usually refers to the food, but in his time of need, he said it about the people, adding everyone at Cafe Marie has helped him to stay strong.
"I've got good friends. A good boss. It's unbelievable what they're doing," he said.
And about his eggs, does he really make the best eggs in town?
"I do," Pryor said, with the hint of a mischievous smile blinking across his lips. "But I don't like to brag."
Danielle Arndt covers K-12 education for AnnArbor.com. Follow her on Twitter @DanielleArndt or email her at daniellearndt@annarbor.com.