Posted on
Fri, Jan 28, 2011 : 11:52 a.m.
Ann Arbor's Elizabeth Allen among veterans featured in documentary 'Our Vietnam Generation,' premiering tonight
By James Dickson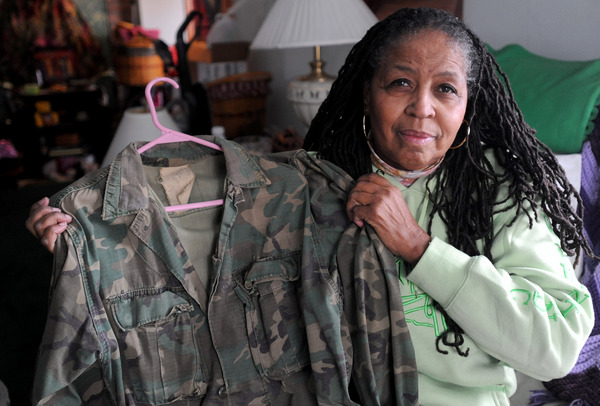 Angela J. Cesere | AnnArbor.com
Elizabeth Allen didn't choose for America to enter the Vietnam War, but she joined the fight voluntarily as a combat nurse, a captain in the U.S. Army.
Allen served at the hospital at Pleiku when it was hit in the Tet Offensive.
Allen's story is one of many told in Keith Famie's newest documentary, "Our Vietnam Generation." Famie, a chef, a former contestant on CBS' "Survivor," and an Emmy Award-winning producer, conceived the documentary as a follow-up to his 2009 effort, "Detroit: Our Greatest Generation," which honored the contributions of southeastern Michiganders to World War II. The film premieres tonight at the Fox Theater in Detroit.
Famie told AnnArbor.com that he envisions "Our Vietnam Generation" as the welcome home parade that Vietnam vets never got.
Today, Allen, 70, lives in Ann Arbor in a home adorned inside and out with knick knacks and framed quotes like "Life is not measured by the number of breaths you take, but by every moment that takes your breath away."
In a pleasantly raspy voice, she reflected on her time in Vietnam during an interview Thursday with AnnArbor.com, and the journey that brought her to nursing and the war.
Allen had just completed her master's in nursing from Ohio State University when she decided in February 1967 to join the Army. She remembers an adviser at Ohio State asking why she would waste her talent and risk her life by joining the military during wartime. Young men were being drafted by the thousands. If that wasn't your fate, no sense in tempting fate, the adviser's thinking went. But Allen couldn't be deterred.
After training at Fort Sam Houston in Texas, Allen found herself on a transport flight from San Francisco to Saigon. It was the first time she'd ever flown.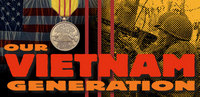 Courtesy: Visionalist Entertainment
More than 40 years later, she can still recall the dark night when she arrived in Saigon: Dirty, drizzling rain, Quonset huts, the tanks — so much bigger and consequential than the ones you see in movies. This was no Hollywood production, she remembered thinking.
She had plenty of training by that point, but Vietnam was a trial-by-fire where she served in huts, in hospitals, on medevac runs — wherever lives needed saving.
"We couldn't call downstairs for more people or more equipment. You learn to work with what you have," she said.
Allen got her biggest scare on a medevac run in the dead of night. As the helicopter filled with wounded men, the pilot explained to Allen that if he had to pick up too many more guys before they reached the MASH unit, he'd have to drop her off and come back later.
"They would've had to scrape me off the jungle," Allen remembered thinking at the time.
Allen has never been the deferential, retiring sort.
She remembers her first visit to the Army enlistment center in Columbus, where the young man at the desk asked if he could help her.
"No, but I think I can help you," she replied.
She explained her qualifications and her interest, and the man brought out the center's decision makers to talk to her.
Allen gave three conditions for joining up: A guarantee that she'd serve in Vietnam; a guarantee that she'd be in the next class sent over; and a guarantee that the Army would beat the Air Force, where she had also inquired, to the punch.
The Army met all three conditions.
After she'd served for a year, April 1967 to April 1968, Allen had to return to the States — all the nurses were required to go home after a year, she said. She wanted to go back to Vietnam, but the Army wanted her to teach. Eventually Allen decided that she didn't need to be a part of the military if all she was going to do was teach, and she left in 1969. As to whether the war was right or wrong or good or bad or a necessity or a choice, Allen's view today might be described as agnostic.
"I didn't start the war and I couldn't end it, but I could do my job — Very well," Allen said. She doesn't feel conflicted about the importance of military service.
"Freedom is not now, nor has it ever been, free," she said.
Allen moved to Ann Arbor in 1976 to serve as an associate professor and as director of the University of Michigan School of Nursing's continuing education program. She stayed as director until 1982 and retired from teaching in 2007.
In many ways, Allen's service was anomalous compared to fellow Vietnam veterans. Allen was 26 when she volunteered for duty, and in a much different place emotionally than the 18-and-19-year-olds she was patching up.
When she came back, there was no reception or reaction to her service in Vietnam because she's not readily identifiable as a veteran.
Allen recalled a visit to the Veterans Administration when a nurse made an offhanded remark about how Vietnam vets, in particular, were tough to work with. Always angry, the nurse said.
"You could've chosen any hospital to work at," Allen told the nurse, "but if you're going to work with veterans, you have to respect them. I am a Vietnam veteran."
Tickets to the premiere of "Our Vietnam Generation" are available for $25 and $35 through Ticketmaster and at the Fox Theater box office. The premiere will benefit the Veterans Memorial Park of Detroit and the Red Cross of Michigan.
"Our Vietnam Generation" will also air in abridged form on Detroit Public Television at 9 p.m. Monday, Feb. 21. For more information on the film, visit http://www.ourvietnamgeneration.com/.
James David Dickson can be reached at JamesDickson@AnnArbor.com.