Posted on
Tue, Jan 1, 2013 : 2:39 p.m.
Ann Arbor's first baby of 2013 will soon be half a world away
By Sven Gustafson
He became Washtenaw County's first baby born in 2013 early Tuesday, but don't expect Lawrence Douglas Crawford III to stick around town for long.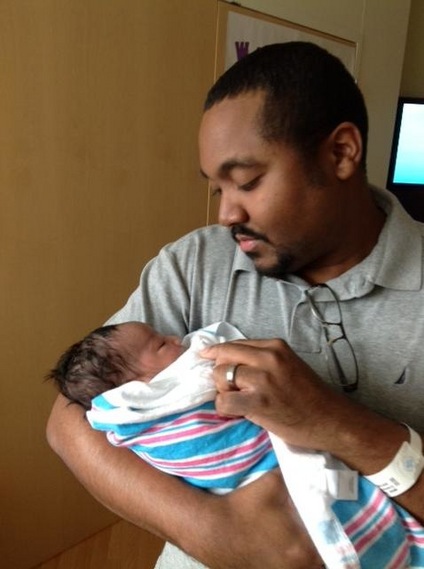 Photo courtesy of University of Michigan Health System
Baby Lawrence helped his parents usher in 2013 on a high note when he was born at 2:07 a.m. Tuesday at the
University of Michigan Von Voigtlander Women's Hospital
. He's the first child of
Lawrence Crawford Jr
., 30, and his wife,
Krysta
, 28, who live in Japan.
"He came out 8 pounds, 15 ounces and he was 21 and a half inches," Lawrence Jr. said.
"I feel great, absolutely great. And surprised," he added.
Technically, Lawrence III is a little late. His original due date was Christmas Eve.
His father reports that he and his mother are both doing well and resting after a long day of labor. The parents arrived at the hospital Sunday afternoon.
"I guess I'm at the point where I'm just relieved and excited at the same time, so I'm kind of in-between both of 'em," Lawrence Jr. said of being a first-time parent. "I was really nervous last night."
Lawrence Jr., a 2006 University of Michigan graduate who works in sales and testing for a Japanese auto supplier, arrived back in Michigan two weeks ago and has been staying with his parents, who live in Rochester Hills. He flies back home Wednesday to Toyota-Shi, Japan.
Momma and the baby will stay behind until doctors give the OK to leave the hospital, then fly back to Japan to join him.
Lawrence Jr. said Krysta wanted to have a baby at U-M, and flew back to begin prenatal treatments and checkups several months ago. The two also wanted to let his parents see the baby.
"I really wanted them to see their first grandchild, and the university, we have a real strong tie to this university," he said.
For the distinction of being 2013's first baby, Lawrence III received a gift bag that included a stuffed Mott bear, a Hail to the Victors onesie and a photo package.
Meanwhile, St. Joseph Mercy Ann Arbor Hospital was still waiting for its first birth of the year. Spokesman Kevin DiCola said two women were in labor Tuesday afternoon, with the first baby expected to arrive around dinnertime.