Posted on
Sat, May 12, 2012 : 11:42 a.m.
Ann Arbor's vision for Huron River part of new kayaking opportunities across Lower Michigan
By Paula Gardner
Ann Arbor's new Argo Cascades and the city's vision for more Huron River recreation opportunities joins similar goals among Michigan communities seeking to increase kayaking and whitewater rafting options, according to a report in the Detroit News.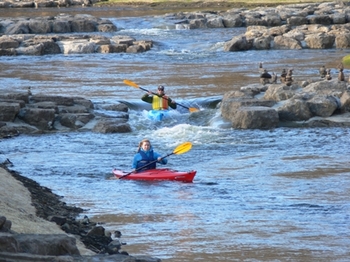 Courtesy of city of Ann Arbor
Communities across Lower Michigan are turning to their many lakes and rivers to create white-water rafting and kayaking features, according to the report.
According to the Detroit News story: "Cities such as Ann Arbor, Grand Rapids, Flint, Traverse City and Eaton Rapids are considering engineering steps that will alter local rivers to increase drops, create obstacles and pools and manufacture eddies for safety."
Ann Arbor got a start on that this spring when it opened the Argo Cascades, a $1.17 million kayaking feature in a bypass channel near the Argo Dam.
And it could add to that when the former MichCon site is cleaned up and developed, a process that started recently.