Posted on
Fri, Nov 30, 2012 : 5:59 a.m.
Ann Arbor's new underground parking garage about two-thirds full after 4 months in use
By Ryan J. Stanton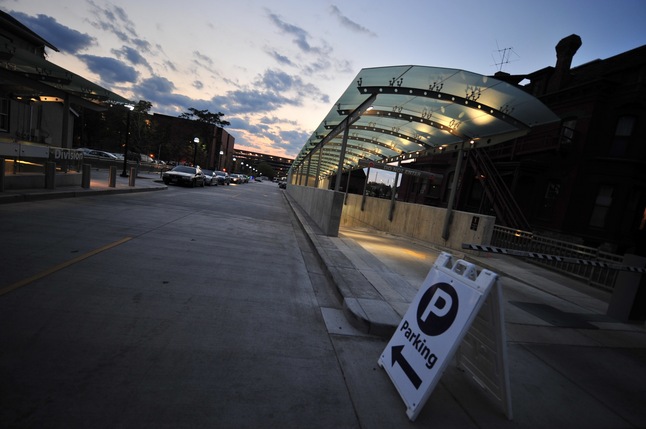 Ryan J. Stanton | AnnArbor.com
After four months of operation, Ann Arbor's new underground parking garage on Fifth Avenue is about two-thirds full, officials say, but reports show it still lags behind all other garages in the city's public parking system in terms of revenue being generated.
Officials say that's to be expected with any new garage, though, and it's also partly a result of low introductory rates being offered to monthly permit holders.
They're optimistic use will continue to climb, and they view the fact that there are some empty spaces as a good thing: It means there's capacity to welcome more businesses and jobs downtown.
"Our history in any new structure is it takes at least two years before you start seeing fairly normal levels of revenue," said Roger Hewitt, treasurer for the Downtown Development Authority. "So a structure that's only been open a few months, we don't really have high expectations."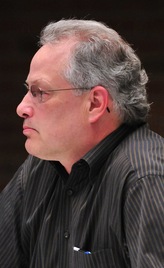 The DDA released reports this week showing the new Library Lane garage generated $77,591 in parking revenue in October. With 744 spaces (including the 33-space surface lot above the four-story underground structure), it took in about $104 per space.
Systemwide, parking revenues in October totaled nearly $1.7 million, up 15.5 percent from the same month last year. That included an 18.2 percent jump in revenue from parking meters.
Five of the downtown parking garages took in six figures: Maynard ($229,588), Fourth/William ($209,587), Forest ($183,449), Ann/Ashley ($151,815), Liberty Square ($131,157).
That makes the new Library Lane garage, which opened in July, the lowest performer of all the garages from a revenue perspective.
Maynard took in $285 per space, Fourth/William took in $211 per space, Forest took in $310 per space, Ann/Ashley took in $181 per space, and Liberty Square took in $222 per space.
The Fourth/Washington garage took in $80,947. But with just 281 spaces, that amounted to $288 per space — the second-highest performer in the system.
Hourly patrons and monthly permits up
The number of hourly patrons across the city's entire 7,820-space public parking system totaled 194,215 for October. That was up about 1.8 percent from the same month last year.
The Library Lane garage welcomed 7,981 hourly patrons in October, or about 10.8 per parking space. That's up 9.2 percent from where the numbers were in August, its first full month.
But the DDA's hourly patron reports don't give the full picture since they don't tell anything about the duration of stays, nor do they include counts of the hundreds of monthly permit holders.
With the opening of the new Library Lane garage, the base of monthly permit holders in the city's parking system is expanding. According to figures from October, there were 3,155 monthly permit holders on record — 175 more than a year earlier — and more are being issued. Additionally, 56 people held overnight permits compared to 32 a year earlier.
There were 559 monthly permit holders in the Library Lane garage as of October, representing more than three-quarters of the 744 spaces, including the 33 surface spaces.
"We're finding the numbers very encouraging, and maybe a little too encouraging right now," Hewitt said.
Monthly permits in the seven parking structures range from $140 to $155 a month, though the DDA has offered a $95-per-month discount rate for some users of the Library Lane garage.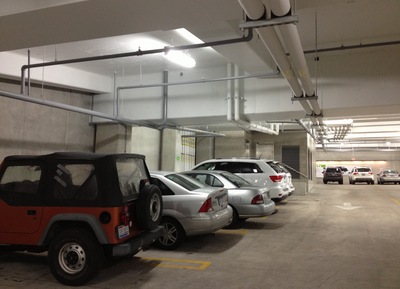 Ryan J. Stanton | AnnArbor.com
Network security firm
Barracuda Networks
recently decided to move its 200-plus employees from Depot Street to downtown and is promising to hire 144 new employees by the end of 2014.
Art Low, manager for Republic Parking, the company the DDA contracts with to manage the downtown parking system, said Barracuda employees have started parking in the new garage as of mid-November.
He said the DDA's next parking report should show an increase in revenue generated at Library Lane due to the many Barracuda employees who are now monthly permit holders.
"I don't know exactly how many, but I think we were going to have close to maybe 100-122, which is a good generator. It's a self-source generator, but it's still good," he said.
Counting the Barracuda Networks employees, Low said, the garage is now about two-thirds full after just four months of operation and he considers that pretty good.
Low said the reason he doesn't say the garage is three-quarters full (based on monthly permit counts) is because not all of those monthly parkers are in the garage at any given time.
What's next for parking in Ann Arbor
Hewitt said he expects the DDA's governing board to pick up talks soon regarding parking demand management, including giving consideration to extending on-street parking meter enforcement hours past 6 p.m. and creating a tiered rate structure based on demand.
"I've requested that we get some more detailed monthly reporting on usage," he said. "That's probably the first step is getting a better understanding of the dynamics of the parking system."
Figures for the fiscal year ended June 30 show the DDA saw more than $17 million in revenue from the parking system last year, or about $2,386 per space.
Operating expenses totaled $8.6 million and bond payments totaled $2.9 million, leaving $5.6 million in net income after debt payments. That amounts to $784 per space in the system.
Two garages — Fourth/Washington and Forest Avenue — were money-losers after factoring in bond payments. Before bond payments, they generated more than $890,000 in net income.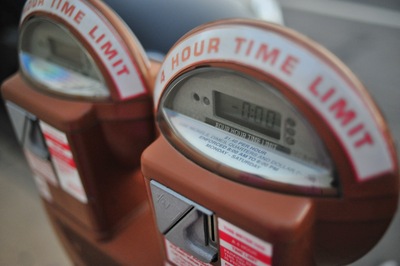 Ryan J. Stanton | AnnArbor.com
"Just jacking rates up probably isn't going to address the issue of demand," Hewitt said. "So we're trying to understand it better before we jump in and start making a bunch of financial changes that may or may not address the real issue, which is there are a lot of people who want to be downtown right now — which is great. We're just trying to figure out the best way of serving them."
The DDA's Operations Committee was presented with a year-end audit report on Wednesday by a certified public accountant from the Rehmann accounting firm.
The audit shows the DDA brought in nearly $21 million in revenue last year, including $3.7 million from property taxes and more than $17 million from parking revenues. With expenses totaling nearly $20 million, the DDA saw a $964,697 positive change in net assets for the year.
The audit shows the DDA with fund balances totaling $8.6 million, putting it in better shape financially than it had been when it ran down its reserves to pay for the new garage.
"I think the auditor said it best — it was a completely clean audit," Hewitt said. "There are no recommendations for any changes. That's about as good as you can get."
Ryan J. Stanton covers government and politics for AnnArbor.com. Reach him at ryanstanton@annarbor.com or 734-623-2529. You also can follow him on Twitter or subscribe to AnnArbor.com's email newsletters.