Posted on
Fri, Jul 13, 2012 : 5:58 a.m.
Ann Arbor's newest parking garage gets mostly rave reviews at grand opening
By Ryan J. Stanton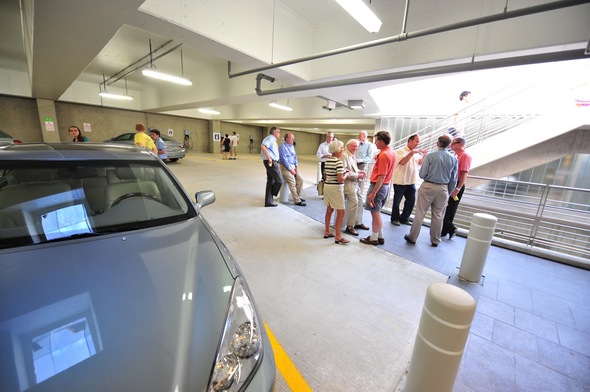 Ryan J. Stanton | AnnArbor.com
Michael Finney
, CEO of the Michigan Economic Development Corp., was one of the first users of
Ann Arbor's new underground parking garage
on Thursday.
Pulling into downtown Ann Arbor for an afternoon meeting, Finney saw a clear path into the structure and took it — only to find out it wasn't officially open yet.
An attendant let him stay for a few hours anyway.
"It's pretty amazing, quite frankly," Finney said. "I'm glad to see it. There's clearly a need for more parking. I'm hearing this has really made a difference, so it's a really positive scenario."
Finney said he's anxious to see what the city decides to put on top of the garage, which has 711 parking spaces on four levels below ground, plus 52 surface-level spaces.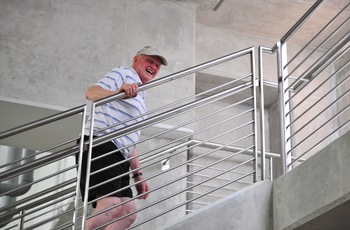 Ryan J. Stanton | AnnArbor.com
"Hopefully there will be a significant development opportunity — some kind of a commercial enterprise," he said. "There's been concepts of hotels and conference centers and other things. I think they all represent opportunities to build the tax base here.
"But I certainly would not be upset if there were a park on it," added Finney, who lives in Washtenaw County's Superior Township.
Ann Arbor officials and Downtown Development Authority leaders were surrounded by dozens of cheering supporters as they celebrated the grand opening of the new Library Lane parking garage Thursday night. It will cost $1.10 an hour to park in it.
Local businessman Rob Aldrich, who served on the DDA board from 1999 until 2007, including as chair in 2001-02, was given credit for pushing the city to build what he called a "big ass parking structure." A plaque inside the new structure acknowledges his vision.
"Rob Aldrich said, 'We need a big ass parking structure underneath the Library Lot,' and now we have it," said DDA Chairwoman Leah Gunn. "We owe him a debt of gratitude."
The Christman Co. of Lansing served as construction manager for the $50 million project, which is being paid for using tax dollars and parking revenues collected by the DDA.
Pat Podges, vice president for the Christman Co., said he appreciated the patience and endurance of Ann Arborites during the long project. It started in late 2009, and Fifth Avenue was closed for nearly two years starting in August 2010 before reopening recently.
"I know for those of you who were waiting to reoccupy your streets and your sidewalks and let the construction dust settle, time moves slowly, so I just wanted to extend a heartfelt appreciation for your cooperation," Podges said. "I hope that it was well worth the wait."
Podges said more than 350,000 worker hours went into the project.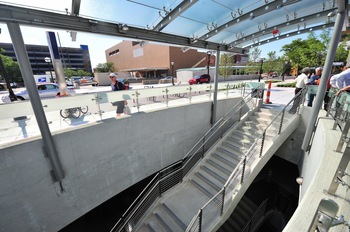 Ryan J. Stanton | AnnArbor.com
Many residents toured the parking structure for the first time Thursday night and left impressed with what they saw. Many commented on how well daylight seems to reach the lowest levels of the garage, avoiding the stereotypical below-grade parking experience.
"I really like the lighting of it," said Ann Arbor Township resident Dale Black. "It feels a lot more open than a lot of underground parking garages do, so it looks really nice. I'm sure I'll use this one."
Stepping out of his father's car after they parked inside the garage for the first time, 10-year-old Nemo Neiburger of Ann Arbor exclaimed: "Awesome!"
"It really looks futuristic," said Nemo, whose father Eli Neiburger works for the Ann Arbor District Library next door.
Local real estate developer Peter Allen offered an equally positive review after taking a walk through the garage.
"The design details are extraordinary," he said. "The signage, the cleverness, the color, the light wells that come down, the stainless steel, the sense of arrival. When you're on a lower level, you look up and you can see the sky. It's just extraordinary."
Ann Arbor resident Alex Feighner already has a job as the afternoon parking attendant inside the garage. He'll be working from his own cozy, air-conditioned booth.
"I was a little concerned about feeling claustrophobic down here, but the lighting is so well done in here that you don't even feel like you're underground," he said.
"I'm glad I picked up the shift," he added.
Not everybody in the crowd Thursday night was as upbeat, though.
"I think the garage is a colossal mistake that completely disregards climate change, the cost of gasoline, the present needs of our community and the future of our children," said Joel Batterman, a local alternative transportation advocate.
"Continued investments in the automobile just aren't what progressive cities are doing at this time," he said. "It's all about transit, bicycling and walking."
Ryan J. Stanton | AnnArbor.com
Alan Haber
, one of the residents pushing the city to develop a central park atop the garage, didn't have an opinion on the structure itself.
"I don't know whether this thing should be here or not, but given that it is here in the center of town, the surface should be a place for everyone," said Haber, who passed out fliers inviting everyone to a block party atop the garage from noon to 5 p.m. this Saturday.
Mayor John Hieftje acknowledged there has been controversy over the structure and that some residents didn't believe it was the right thing to do environmentally.
"I don't know of a single city that does more than ours for alternative transportation," he said. "If you work in the downtown, you can get a free go!pass. We expanded the bicycle lane system by 600 percent within five years. Ann Arbor is an award-winning city for its walkability."
Hieftje said the fact remains that 68,000 people come to work in Ann Arbor every day from outside the city, and many of them want a place to park. He said the city could have chosen to starve downtown for parking, but that would have killed the business environment.
"We have a testimony to that just in the last few weeks," he said. "Barracuda Networks moved into downtown Ann Arbor. We now have a growing technological campus with Google, with Menlo Innovations, with Barracuda and a number of other small firms. They would not have made that move without parking. Without this structure, it wouldn't have happened."
Gunn said the DDA's mission is to encourage private development downtown, but the DDA has been frustrated with having to say no to businesses that wanted parking permits.
Despite being open for a few hours for the celebration, barricades were put up Thursday night to stop cars from coming or going from the structure overnight. An employee of Republic Parking, the company that will manage the garage, said it could reopen Friday.
"We've got a few things left to be done," said Amy Sullivan, project manager for Christman. The lowest level of the garage was blocked off Thursday because it's not finished.
"You'll notice when you walk downstairs, there's a little bit of painting left to do, a little bit of wayfinding signage that needs to be tweaked," she said. "But all in all, this is the look of the project that everybody's been planning on and banking on and now finally it's here."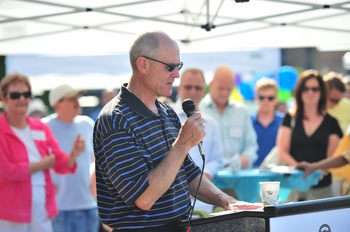 Ryan J. Stanton | AnnArbor.com
Sullivan said she's happy with how the project turned out. She pointed to its vivid colors, decorative glass canopies, extensive lighting and openness of the staircases. Another signature piece installed recently is the "channel glass" at the bottom of the Fifth Avenue staircase.
"It was one of the last things we put in because it's expensive and it comes from Germany," Sullivan said, describing it as a high-quality curtain of glass with interlocking pieces.
Sullivan said crews were working feverishly over the last few weeks to get the structure ready for Thursday's grand opening.
"It's like any project. You think every project would be a little different and you'd be done before the end date, but it's always those last-minute tweaks," she said. "Those last-minute problems always show up at the very end, so we've been very feverishly working through those."
A total of 43,000 cubic yards of concrete were used on the project, which is enough to pave a sidewalk stretching from Ann Arbor to Battle Creek.
Nearly 190,000 cubic yards of soil were removed from the site, with more than 100,000 cubic yards reused in projects in Ann Arbor and Southeast Michigan. Much of the remainder was used as part of the structural concrete mix for the parking garage.
The structure's stormwater detention tanks can hold up to 350,000 gallons of rain water, the benefits of which Gunn touted in a recent interview with AnnArbor.com.
Because the site is designed for a potential future development, the garage has massive mat foundations up to 10 feet thick in some places.
The project also included construction of Library Lane, a new two-way street that cuts through the block and connects Division Street with Fifth Avenue.
Library patrons can safely pick up and drop off passengers along Library Lane now. There also are bicycle racks and motorcycle/scooter parking spaces on the surface level.
The site has been designed to allow closures of Library Lane for special events or large school group visits to the library while the parking structure remains fully operational.
Entrances to the garage are located off Fifth Avenue and Library Lane, while there are exits on Division Street and Library Lane.
Adrian Iraola, a project manager for Park Avenue Consultants who worked closely on overseeing the project, said he's excited to have it completed.
"It's been a long process and we are very proud," he said. "Eventually the people of Ann Arbor will recognize it as one of the most important landmarks. It's in the center of the city and people are going to come in and enjoy the beautiful architecture and the great functionality."
PHOTO GALLERY: Library Lane underground parking garage opens to public in downtown Ann Arbor
Ryan J. Stanton covers government and politics for AnnArbor.com. Reach him at ryanstanton@annarbor.com or 734-623-2529. You also can follow him on Twitter or subscribe to AnnArbor.com's email newsletters.