Posted on
Wed, Jul 6, 2011 : 5:59 a.m.
Recycle Ann Arbor asks city for rate hike after 40-percent shortfall in projected collection
By Ryan J. Stanton
Expectations for Ann Arbor's new single-stream recycling program — launched in July 2010 — have proven overly optimistic, and city officials now say the nonprofit organization responsible for curbside collection of recycling carts is hurting financially because of it.
Tom McMurtrie, the city's solid waste coordinator, wrote in a memo to City Council members that the single-stream recycling program has increased recycling tonnages collected in Ann Arbor, but not to the extent that was projected in the business case used to calculate Recycle Ann Arbor's compensation over a year ago.
He said the nonprofit organization received $337,527 less than it expected from its contract with the city this past year.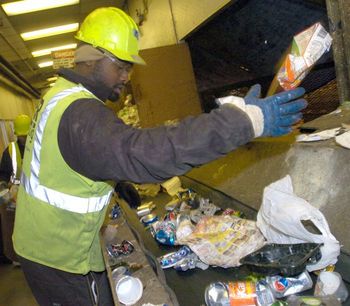 File photo
As a result, the
Ann Arbor City Council
was asked Tuesday night to consider a contract change to increase the fees it pays to Recycle Ann Arbor. But the proposal to change the per-month tipping fee from $3.25 to $3.55 per cart for 4 years failed to garner enough support to pass.
Council Members Stephen Kunselman, Carsten Hohnke, Mike Anglin and Sabra Briere joined forces to oppose the increase, which would have boosted Recycle Ann Arbor's pay by an estimated $107,042 annually at current recycling levels.
Sandi Smith and Margie Teall were absent.
McMurtrie said the number of recycling carts deployed as part of the single-stream program is 9.2 percent lower than initial projections that anticipated 32,779 carts being deployed. The actual number is 29,734, he said.
The main reason for the lower-than-expected number, McMurtrie said, is that many of the smaller, multi-family residential units that were previously using the 11-gallon recycling totes are able to share recycling carts. In addition, he said, it was discovered there was inadvertent double-counting of some residential units in the original projections.
The number of collected tons projected by the city's recycling consultant for fiscal year 2010-11 was 18,425. The actual number is somewhere closer to 10,800 tons, a 40 percent shortfall, according to data provided by McMurtrie.
McMurtrie said those projections were based on per-household generation rates provided by RecycleBank that were from communities that had a much larger percentage of single-family homes than Ann Arbor, which has almost 50 percent multi-family.
On the positive side, he said, the actual tonnage collected is still a 20 percent increase over the number of tons that were collected in the previous year with two-stream recycling.
The cost to the city — even with an increase in tipping fees — would be $151,443 less than the $1.6 million the city paid to Recycle Ann Arbor in fiscal year 2009-10, the last year of two-stream recycling, McMurtrie said. He said funds were available in the solid waste budget.
According to McMurtrie, Recycle Ann Arbor is struggling financially because of the shortfall and has taken steps to cut operating expenses, including renegotiating a driver union contract and decreasing staffing levels, among other efficiencies.
The group's financial filings indicate that its income was $5.49 million in 2009, down from $5.6 million a year earlier. It had operating deficits of $468,911 in 2008 and $161,774 in 2009.
Ryan J. Stanton covers government and politics for AnnArbor.com. Reach him at ryanstanton@annarbor.com or 734-623-2529. You also can follow him on Twitter or subscribe to AnnArbor.com's e-mail newsletters.