Posted on
Sat, Feb 20, 2010 : 9:19 a.m.
Ann Arbor's Rick Snyder talks about Gateway outsourcing and bid for governor
By AnnArbor.com Staff
Republican gubernatorial candidate Rick Snyder did his best Friday to deal with questions on whether he sent jobs to China during his days with computer maker Gateway Inc.
During the taping of the public television show "Off the Record," Snyder said the outsourcing occurred when he was a board member and that he brought some of those jobs back while he served as the company's acting CEO.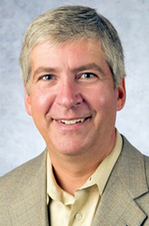 "When I was managing the company, we did not outsource jobs to China," the Ann Arbor venture capitalist said.
Snyder is one of five Republicans running for the chance to replace outgoing Democratic Gov. Jennifer Granholm. The candidates are all focused on lowering Michigan's 14.6 percent unemployment rate, the nation's highest. But Snyder says he's the only one who has proven himself able to create jobs and bring an entrepreneurial spirit to the state.
Michigan Democratic Chairman Mark Brewer has dismissed Snyder's claim, saying in a statement that "all Rick Snyder did as a private sector CEO was send American jobs to China."
Brewer successfully used a similar attack against Amway heir Dick DeVos when the Ada businessman ran unsuccessfully against Granholm four years ago. The Democratic Party said DeVos, while company president, was responsible for eliminating about 1,400 jobs from the Ada headquarters of Amway's parent company, Alticor Inc., while building a factory and adding jobs in China.
The DeVos campaign said only 600 people were laid off, while the rest took early retirement or were cut through attrition.
Granholm easily won re-election, despite DeVos pouring more than $35 million of his own money into the state's most expensive campaign.
Snyder's campaign is fighting the Democratic charges against him with a three-page handout, "Setting the Record Straight on Rick Snyder's Record at Gateway."
The handout says Snyder joined the fledgling computer maker as executive vice president in 1991, when it had fewer than 800 employees. He was promoted to president and chief operating officer in 1996, then left to start his own venture capital company in 1997. At that time, Gateway — then based in North Sioux City, S.D. — had 13,300 employees, including 10,600 in the U.S.
Gateway significantly cut back on its work force in the following years, according to Snyder's handout. The company moved a "substantial portion" of its manufacturing operations to Mexico and countries in eastern Europe and Asia, including China, according to company filings with the Securities and Exchange Commission.
Through that period, Snyder remained on the Gateway board. He said Friday that he has no memory of any vote being taken on outsourcing while he was on the board of the company, now a subsidiary of Taiwan-based Acer Inc. He added that no minutes of those meetings exist.
Snyder said he reversed some of that outsourcing when he returned to Gateway for seven months in February 2006 as interim chief executive officer.
"They asked me to come back to help rescue the company," he said. "And when I came back as interim CEO, I brought jobs back to the U.S."
Michael Tyler, who worked as Gateway's chief legal and administrative officer from 2004 to 2007, said Friday that the board wasn't involved in decisions on moving jobs abroad.
"Decisions on outsourcing were made at the managerial level," said Tyler, now working in London as executive vice president, general counsel and secretary for Sanmina-SCI, an electronics contract manufacturer.
"To my recollection, these decisions did not rise to the level of the board," he added. "Rick Snyder was someone who brought jobs back to the United States when he was in management."
Brewer said Snyder still has to take responsibility for the job loss.
"It's something that the board could have stopped or reversed if it chose to," he said. "We're content to let the voters of Michigan decide who was responsible for sending those American jobs to China."