Posted on
Thu, Jan 24, 2013 : 5:58 a.m.
Ann Arbor's Rose Martin remembered as a shining light in the lives of many
By Ryan J. Stanton
Rose Martin is remembered for touching thousands of lives during her more than four decades as a social worker and community activist in Ann Arbor.
"She gave until it hurt," said Ann Arbor resident Marc McRae, her 47-year-old adoptive son. "She couldn't give enough."
Martin, one of the founders of the nonprofit Peace Neighborhood Center in Ann Arbor and a driving force behind helping the disadvantaged in the area, died Tuesday.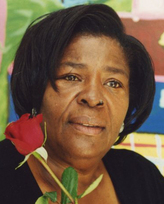 AnnArbor.com visited the Peace Neighborhood Center on Wednesday and spoke with a number of people who said Martin made a profound difference in their lives.
"Rose came in my life at a time that I needed guidance, love and support," said Delisia Daniel, her 33-year-old goddaughter from Ypsilanti.
"I was like maybe 10, 11 or 12 when I met her, so I clung to her," she said. "We hung out, we had parties, sleepovers, we ate, we laughed, we cried. There were so many lessons she taught us."
Bonnie Billups, executive director of the center, which serves low-income residents in the Ann Arbor area, said in a previous story Martin had what appeared to be cardiac arrest while at the Olive Garden restaurant in Ann Arbor for lunch. Billups described Martin as "Ann Arbor's version of Mother Teresa."
Martin, 70, helped found the Peace Neighborhood Center in 1971 and became its executive director five years later. Martin retired from that position in 2006 and founded another nonprofit organization, Rose's Good Company, which has provided help for those recently released from prison, as well as homeless people and recovering addicts, among others.
Edward Segars Jr., 56, of Ann Arbor, said he first came into contact with Martin about 15 years ago at a rough point in his life when he was in detox at Dawn Farm, a local substance abuse agency. Segars told a friend of his he wanted help, and his friend put him in touch with Martin.
"I've known her ever since," he said. "She's done a lot for me."
Even when he was homeless, Segars said Martin would come check on him every day when he was living at the shelter.
"She taught me how to live and not merely just survive, because I was just surviving," he said, adding her generosity might have caused some to ask: "What's the catch?"
He said there was never a catch.
Richard Wilkerson, 52, of Ann Arbor, said he struggled with drug and alcohol addictions and had to work to earn Martin's favor.
"Rose was the type of person who would look at you and she handpicked who she helped," he said, adding she wouldn't waste her energy on people who weren't serious about getting better. "And I'm blessed that she saw something in me in that time that I didn't even know existed."
Wilkerson said Martin was always there for him, including the six-plus years he was homeless and living in the shelter.
"A lot of people just talk," he said. "She actually would get out there in the trenches with us."
Wilkerson said he's nine years clean and sober thanks to Martin's influence in his life, and he's even studying computer technology at the ITT Technical Institute in Canton.
"Who would think somebody like me would be in college, making good grades?" he said. "I ain't never made good grades, and my Rose stayed on me."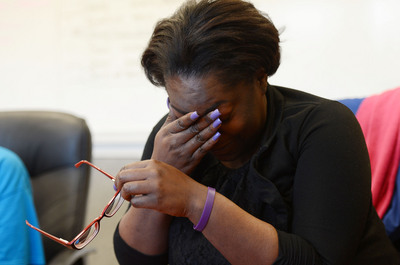 Melanie Maxwell | AnnArbor.com
Ypsilanti resident
Talasha Moore
, 27, said she met Martin almost 17 years ago. Moore's mother, a recovering crack addict, had just gotten out of detox, and Martin became a positive presence in her life.
"Rose just taught me so much," Moore said. "She came at a time when I needed her. The support, the love — I needed her then."
Moore said she saw Disney's "The Lion King" on Broadway when she was 15 thanks to Martin. She recalled other trips to Chicago and Mammoth Cave in Kentucky.
"Things that would never have been offered," she said of what Martin brought to her life. And that includes making sure she received a college education.
"In December 2010, I got my bachelor's from Southern University," Moore said. "She wrote letters to people in the community to raise money — they paid for me.
"Now I'm going to get my master's," she added. "Without her, I know it — it would not be the way things are right now for me. She just was a light. She was genuine."
John Ulmer, 63, of Ann Arbor, gives credit to Martin for helping to get him out of prison in 2008, giving him a second chance in life after serving 37 years of a life sentence for murder.
"She fought for 26 years to get me out for my freedom," said Ulmer, who had been locked away since the age of 22.
Ulmer said it was his mother who appealed to Martin: "I see in the paper that you save a lot of people, help a lot of people — would you help my Johnny?"
Ulmer said Martin stayed active in his life. At the Peace Neighborhood Center, Ulmer has been a mentor to area youths, making sure they don't go down the same path he did, and he has worked for Rose's Good Company doing whatever Martin asked of him.
"I might get a phone call at 3 o'clock in the morning," he said. "They'd say, 'Rose told me to call you, I need help,' and I'd have to get on out of bed and go take care of whatever was needed."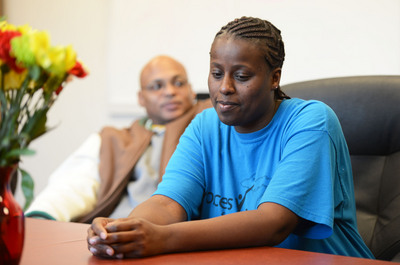 Melanie Maxwell | AnnArbor.com
Those who knew Martin closely said it was the circumstances of her own childhood — growing up in Camden, New Jersey, without her parents and moving in and out of foster homes — that motivated her to spend her life helping others.
Martin found herself in an abusive marriage and, in 1971, with two young children, she left for Ann Arbor where she landed a job with the Housing Commission. Five years later, she became director of the Peace Neighborhood Center where she served for 30 years.
"She came to a town and made something out of nothing, and she could relate to young women with kids, and she could relate to kids being without their parents or maybe being in a one-parent household or going through some things," McRae said. "She grew up without."
Paul A. Johnson, 35, a program director at the Peace Neighborhood Center, said Martin was an inspiration in his life at an early age. He recalled the day Martin asked him what he wanted to be when he grew up. A young Johnson replied: "I want to make a whole lot of money!"
And so Martin gave him a job stamping paychecks. All was well and stamping those checks was going fine, Johnson said, until he messed up and stamped a check for $12 million.
"I was all upset and I was getting ready to quit," he recalled. "And she was like, 'No, God never makes a mistake. This check is yours because this is going to be your first paycheck — this is how much you are going to make on your first big paycheck.'
"That kind of taught me to look at life like that — there are no mistakes, there's only potential," Johnson said. "And when she did that, I think she created in my mind the space for potential to let me know I was greater than what I even thought I was."
Those close to Martin said she often reached into her own pocket to help provide food, clothing and shelter for complete strangers, and children always came first.
Ulmer said at least once he saw Martin take one of her retirement checks and spend the money to help a homeless person.
McRae recalled a time Martin ventured out in the wilderness to help a homeless man who had been living in the woods for years. She got the man needed medical attention, gave him a job as a janitor, and helped him integrate back into society and reconnect with family.
A story that ran in The Ann Arbor News on Christmas Day 1973 documented a Christmas Eve trip Martin — dressed as Santa Claus — made to some of the city's largest low-income families, carrying sacks of canned vegetable soup, breakfast cereal, children's clothing and other items.
At the time, Martin was a Housing Commission staff member who led Operation Education, an ongoing project through which youngsters living in local public housing would go camping and take plane and bus trips everywhere from the Detroit Zoo to Washington, D.C.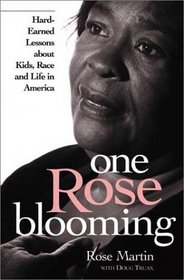 McRae recalled many years ago when Martin took him and a group of children on a bus trip to the Grand Canyon. He said Martin always tried to provide unique experiences for them.
Martin subscribed to the Baha'i faith, which emphasizes the spiritual unity of all humankind. She shared her spirituality openly with others and often gave thanks to God.
"She would give you something and you could say, 'Thank you, Rose,' and she would say, 'Thank God. All things come from God,'" Daniel said.
McRae wonders if it was God's will that guided Martin to Ann Arbor.
"If it wasn't for her, I don't know what would have happened to this area … and thousands of kids and tens of thousands of people she has met over the years here in the community," he said.
McRae knows what it's meant for him.
"If it wasn't for Rose, my life would have been a total waste," he said. "I would probably be in prison. She changed the path. She kept me out of trouble."
Martin has two biological children — Gino Martin, who is a police officer in Farmington Hills, and Kelly Martin, who is a social worker in Ann Arbor — and several adoptive children.
Arrangements to celebrate Martin's life are expected to be announced on a tribute page the Peace Neighborhood Center has set up on its website.
Ryan J. Stanton covers government and politics for AnnArbor.com. Reach him at ryanstanton@annarbor.com or 734-623-2529. You also can follow him on Twitter or subscribe to AnnArbor.com's email newsletters.