Posted on
Wed, Jun 23, 2010 : 5:52 a.m.
Ann Arbor's single-stream recycling starts next month; some toxic items will no longer be accepted
By AnnArbor.com Staff
Ann Arbor residents won't be able to leave household batteries, used motor oil and used oil filters among their curbside pickup starting July 1.
City officials say the change is being made as the city moves toward single-stream recycling, which starts on Monday, July 5.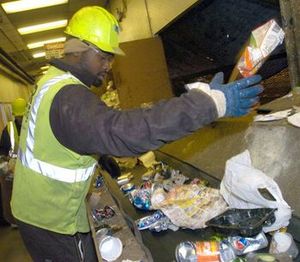 Single-stream recycling will allow residents and businesses to put all recyclable materials into one cart. City officials say it will make recycling easier on everyone and will expand the numbers and types of materials accepted - for example, almost all plastic bottles and tubs will be able to be recycled.
As for batteries, motor oil and filters, officials say residents have several options for recycling those toxic materials. The Drop-Off Station at 2950 East Ellsworth Road accepts all those items in unlimited quantities at no charge, once the $3 entry fee is paid.
In addition, many local auto repair and quick oil-change shops accept motor oil and filters for recycling. Rechargeable batteries can be dropped off at no charge for recycling at most stores that sell rechargeable batteries - as well as at the city's Customer Service Center and City Hall lobby, and at Washtenaw County's Home Toxics Collection Center, 705 Zeeb Road.
Residents who participate in single-stream recycling must place all materials inside the cart, to be emptied via the new hybrid-hydraulic recycling trucks equipped with a cart-lifting arm.
New materials that will be accepted include all plastic bottles and tubs (except #3/PVC and biodegradable plastics/PLA). Large bulky plastic items, such as laundry baskets and buckets, will also be accepted.
For 24-hour information on the city's solid waste services, call 99-GREEN or visit the city's website at www.a2gov.org/recycle.