Posted on
Tue, Aug 27, 2013 : 5:59 a.m.
Ann Arbor's student housing shuffle in full swing: items abandoned at curb against the law
By Ryan J. Stanton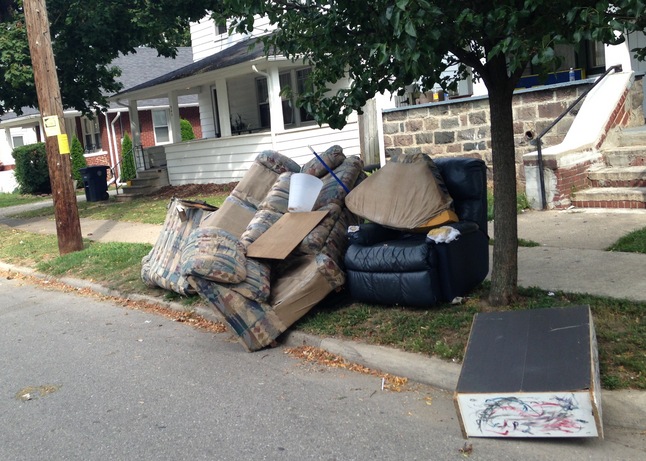 Ryan J. Stanton | AnnArbor.com
With the start of a
new school year around the corner
,
University of Michigan
students are making moves and flocking back to
Ann Arbor
by the thousands.
Inevitably, a major housing shuffle goes on this time of year, as those living near campus haul belongings out of their old apartments and move into new pads for the coming year. Others are finally moving out of town, while new faces arrive to replace them.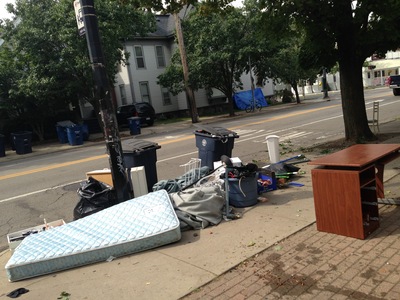 Ryan J. Stanton | AnnArbor.com
One of the consequences of this phenomenon, as those who've recently passed through student neighborhoods are well aware, is a lot of old junk left at the curb, and that's against the law.
TVs, couches, mattresses, shelves, desks, dressers, kitchen supplies and other personal belongings and trash can be found lining curbs on several streets.
In some cases, items are left with signs that scream, "Free for the taking!" in hopes that they'll find a new home and get reused instead of thrown in a landfill.
But no matter the reason for abandoning them, it's still a violation of city code to leave items at the curb unless they're inside a city-provided trash or recycling container, said Tom McMurtrie, who manages the city's trash and recycling programs.
"Anything that's left at the curb outside of the container is a violation of the code and it can be subject to a ticket," he said.
The fine is $200 for the first offense, $400 for the second offense and $1,000 for each additional offense within a five-year period.
Each day of violation constitutes a separate violation, except when the maximum fine is levied, according to the code.
McMurtrie said he wasn't sure how many tickets have been written for trash left at the curb in recent days, but city officials do notice that it happens more frequently this time of year. It also happens each year in May after students graduate and move out.
"In the past, we have issued at least warnings, sometimes tickets," McMurtrie said. "People are given warnings and then given 24 hours to clean things up."
The city is in the process of rolling out a new solid waste plan. McMurtrie noted one of the action items in the plan involves implementing a biannual "community freebie" day to allow people — without penalty — to set items such as furniture at the curb for others to take.
The plan is to kick that off by next summer. Residents would be responsible for removing any items not taken during the amnesty period and disposing of them responsibly.
For this year's student housing shuffle, as it has done in the past, the city is once again providing a special drop-off site for getting rid of bulky items like furniture.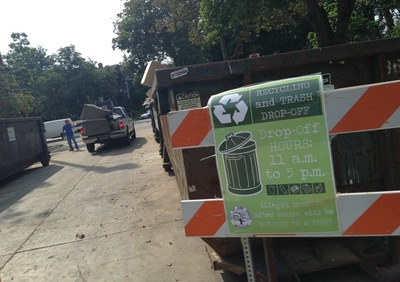 Ryan J. Stanton | AnnArbor.com
A number of industrial-size dumpsters have been placed in the middle of the street at East University and Oakland. That started Aug. 19 and runs through Sept. 3.
The site is staffed by city employees and operates from 11 a.m. to 5 p.m. The Ann Arbor Kiwanis Club and Salvation Army are taking reusable items from the site to sell at their shops.
Materials accepted include bagged trash, discarded furniture and curbside recycling. Reusable items accepted include clothing, nonperishable food, toiletries, furniture and working electronic appliances.
Jim Smiley, a landlord who manages 21 student rental properties in Ann Arbor, said he's been taking advantage of the drop-off site.
"When the kids move out, they leave a lot of stuff behind, so we bring it over here, which is very convenient," he said. "The problem is the kids don't have a vehicle to get around. I have a van or a pickup truck, but the students have a bicycle and a scooter and mom's car."
As a property owner, Smiley said he doesn't want to get hit with a ticket for trash his tenants leave behind, so he makes sure to keep a close eye on his properties this time of year. He said he's been hit with tickets before for trash his tenants left on the lawn after a party.
"On football Saturdays, when kids go to the game and don't pick up the cups, the landlords get the ticket," he said. "If we are dragged to court, we bring the students with us and say, 'Here's what you caused me.' That's inconvenient, but that's happened before — several times."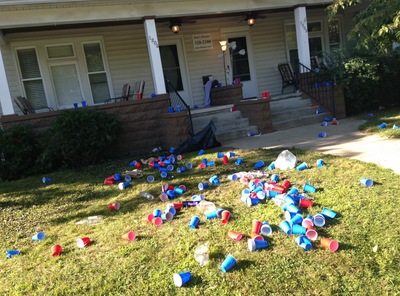 Ryan J. Stanton | AnnArbor.com
Keith Zeisloft, the city's 15th District Court administrator, said the court's caseload for various city ordinance violations typically picks up as U-M students return each fall.
"The court usually sees a bump in the citation rate in September of each year, much of which is attributable to the influx of new and returning students," he said.
"For every year from 2007 to 2012, traffic/criminal case filings typically decline in June, July and August, rebound in September, October and November, decline again in December, rise again in January, then usually — but not always — level out for February, March, April and May."
Here's a look at that trend (download report):
Courtesy of 15th District Court

Courtesy of 15th District Court
Ryan J. Stanton covers government and politics for AnnArbor.com. Reach him at ryanstanton@annarbor.com or 734-623-2529. You also can follow him on Twitter or subscribe to AnnArbor.com's email newsletters.