Posted on
Fri, Nov 19, 2010 : 5:50 a.m.
Ann Arbor's three alternative high schools change students' lives, leaders tell school board
By Kyle Feldscher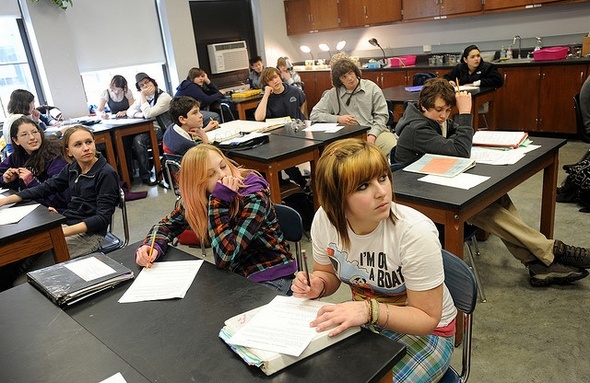 Lon Horwedel | For AnnArbor.com
Marcus Buggs' father was murdered on his ninth birthday. The mother of the Huron High School junior has been incarcerated twice. Until last year, he saw no reason to stay in school.
But attending Roberto Clemente Student Development Center changed his life, he said. He's now expecting to go to college to set an example for his younger siblings.
"The staff in the last year have opened my eyes that I can do work," he said. "I'm going to school for a purpose. They can teach me how to reach success, but its my choice to be successful."
Buggs was among students who took part in a presentation by administrators of Ann Arbor's three alternative high schools to the school board Wednesday night.
Students from Roberto Clemente put on a short performance of a scene from a play and impressed board members.
"There is a perception that we don't really need all six of the high schools," Trustee Andy Thomas said. "It's worth every penny."
Stone High School Principal Sheila Brown said her school serves a lot of students who otherwise would have no hope.
"We service the walking wounded — every student is coming in with a story," she said. "But, we believe if they want to be successful, they will be successful. Our kids are fabulous kids and I would contend that we have some of the best in Ann Arbor Public Schools."
Stone and Roberto Clemente are mostly made up of at-risk students who are either not on track to graduate or need more individualized instruction than they can receive at the district's comprehensive high school.
Ben Edmondson, principal of Roberto Clemente, said he has seen a marked change since he took over the school at the beginning of the 2009-10 school year.
He said students and parents have been taking greater responsibility at school, with every parent either attending the school's open house in September or scheduling a meeting with Edmondson.
"In everything we do at Clemente, we want kids to have a real world experience," he said.
Community High School, the district's third alternative high school, has become the hub for community resource programs and online classes for all Ann Arbor high schools, said Jen Hein, dean of the school.
She said Community had some of the highest Michigan Merit Exam/ACT scores in the state, something recognized by Gov. Jennifer Granholm in a phone call to Hein earlier this year.
The atmosphere at Community, which allows students to have a say in how the school is run, plays a big role in its success, she said.
"If you come to visit the school, you'll hear from our students, what helps them to be successful and not so much from the adults," she said.
The principals talked about dealing with the perception of being an alternative high school, with Edmondson and Brown discussing their attempts to change the stereotyping of their schools.
Neither school had a fistfight during the last school year, with Stone not having one for the last three years. Edmondson said he's made steps to reach out to the rest of the district.
"There were some prevailing thoughts about things were done here," he said. "They've (the other high schools) been receptive. It's a learning process that we're all going through."
Kyle Feldscher covers K-12 education for AnnArbor.com. He can be reached at kylefeldscher@annarbor.com.