Posted on
Sat, Mar 19, 2011 : 4 p.m.
Annual Dance for Mother Earth Powwow is a cornucopia of color and sound
By Lisa Carolin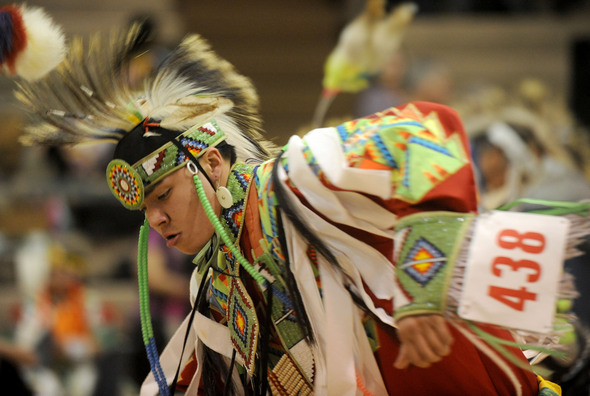 Angela Cesare | AnnArbor.com
For University of Michigan junior Alys Alley, the annual Dance for Mother Earth Powwow hosted by the U of M Native American Student Association (NASA,) is one of the most enriching activities she has participated in at school.
"I've been involved with this powwow since I was a freshman," said Alley, a co-chair of NASA and a member of the Pokagon Band of the Potawatomi. "I've been going to powwows since I was young, and have always found it to be an exciting time to see community members and family."
This year's powwow goes on through Sunday at 6 p.m. at Saline Middle School on Maple Road. It's a student-led event in its 39th year, and preparation began the day after last year's powwow ended.
"The student aspect is challenging because we are all trying to do so much," said Veronica Pasfield, a graduate student at U of M in the American Culture program, and a member of the Ojibwe. "I've been going to powwows since I was a kid, and it was always the highlight of the year. This one is known as one of the best powwows in the Midwest, and people come from all around Michigan as well as drawing people in nationally."
The U of M powwow started in the early 1970s when the native student community began to grow. Thanks to the dedication of the students and the support of the native community in the greater Detroit area, which Pasfield says is close to 68,000 and is the largest in the state, this powwow has remained a popular event.
"The reason native communities love to put on powwows is that it's one of the few public spaces where we can control how our culture is presented," said Pasfield. "There is tremendous diversity but also common threads."
The powwow includes singers, dancers, artists and craftspeople from around the state and representing a diverse group of nations and tribes.
It is set up in circles, and in the tradition of native cultures, one enters the circles from the east. Following a drum roll in which circles of drummers play and chant in harmony, the grand entry officially begins the powwow, and dancers and flag carriers from different communities line up behind the head veteran.
During the day there are Intertribals, when people from different nations share the dance floor. Many come dressed in regalia handmade and unique in their colors, yarn, cloth and other materials. From feathers to jingles to intricate bead work, the regalia is striking.
The event has strong support from U of M faculty members such as Phil Deloria, a professor of History, American Studies and Native American Studies and Associate Dean for Undergraduate Education at the college of Literature, Science and the Arts.
"The University of Michigan has a robust program for Native American studies including literary courses, anthropology, and religious studies," said Deloria, who himself comes from a family with a long native history that goes back to the Sioux in South Dakota. "Students take the lead in orchestrating this powwow, and we support them with financial resources."
Deloria says that Michigan's tribes are "amazing and a real presence in the state."
For more information on the 2011 39th Annual Dance for Mother Earth Powwow, go to www.umich.edu/~powwow/. Admission is $10 for adults, with special rates for students, seniors and children. A shuttle bus is available from the Michigan Union on the hour. The powwow is open until 8 p.m. Saturday, and from 10 a.m. to 6 p.m. Sunday.
Lisa Carolin is a freelance writer for AnnArbor.com. Contact the news desk at news@annarbor.com.