Posted on
Sat, May 19, 2012 : 5:52 a.m.
Michigan cougar sighting confirmed - but not in Ann Arbor
By Katrease Stafford
Another cougar sighting? Relax, this time it wasn't in Ann Arbor.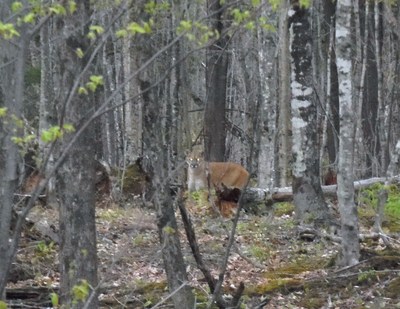 Photo Courtesy |The Department of Natural Resources
The
Department of Natural Resources
announced yesterday a confirmed cougar sighting in
Baraga County
in the
Upper Peninsula
.
Baraga County resident Fred Nault spotted the animal near Skanee on May 5 and was able to snap a picture. The confirmed sighting in the Upper Peninsula comes almost two months following the cougar sightings in Ann Arbor near the University of Michigan's North Campus.
DNR Wildlife Division staff members were contacted by Nault and visited the property this Tuesday to verify the location.
The cougar was spotted crossing a road when Nault, who happened to have a camera, took a picture before the animal fled into the woods.
DNR Wildlife specialist Adam Bump said the department is beginning to see a few scattered cougars moving back into the state.
"I think a lot of it has to do with the fact that we know cougars have established populations in the Dakotas, so we're starting to see a lot of dispersal and for whatever reason they're heading east," Bump said. "We're starting to get more frequent cougar movement."
University of Michigan Police Lt. Bob Neumann said the university has not seen or heard anything since the end of March.
"We haven't heard a thing," Neumann said.
Bump said if a cougar was actually in the Ann Arbor area, the DNR would have received more calls of potential sightings. Even so, Bump didn't completely rule out the possibility of an actual sighting.
"I can't say for sure because I don't have any pictures but I must say it does seem unlikely," he said.
Years ago, cougars were native to Michigan, but disappeared from the state at the turn of the century. The DNR has now verified eight separate sets of cougar tracks and seven separate photos in the Upper Peninsula since 2008.
Prior to that, the last confirmed cougar in the state was an animal killed near Newberry in 1906.
A handful of cougar photos and tracks were verified by the DNR in the fall and winter of 2011. Tracks and photos were confirmed in Ontonago and Baraga counties, a photo was verified in Houghton County and tracks were confirmed in Keweenaw County.
Bump said most of the sighted cougars are male and all were seen in the Upper Peninsula. No sighting has ever been confirmed in the Lower Peninsula.
"We have only verified cougars in the Upper Peninsula," Bump said. "We get a lot of reports but we we've never been able to confirm it."
Bump said it's in part because cougars try to avoid humans and heavily populated areas.
"They look for areas with a lot of prey that are easy for them to stalk," Bump said. "Here, they're looking for places that have less people. They don't want to be somewhere where they're disturbed. They are very secretive."
The DNR said possible cougar sightings are regularly reported throughout the state, but verification is often difficult, due in part to a lack of physical evidence.
Characteristic evidence of cougars include tracks, which are about three inches long and three and a half inches wide with typically no claw marks. Other possible indications of cougars include "suspicious kill sites" such as deer carcasses that are largely intact and buried with sticks and debris.
Cougars typically are tan with a very long tail and a white belly, Bump said.
Bump believes people shouldn't panic because of the possible increase of cougars in the state, but instead be cautious.
"They need to be respected," he said. "They're a large predatory species so I think people should be cautious. However, the likelihood of something happening in Michigan is very unlikely."