Posted on
Mon, Oct 29, 2012 : 9:39 a.m.
Another I-96 freeway shooting reported Monday; state police investigating north of Ann Arbor
By Kyle Feldscher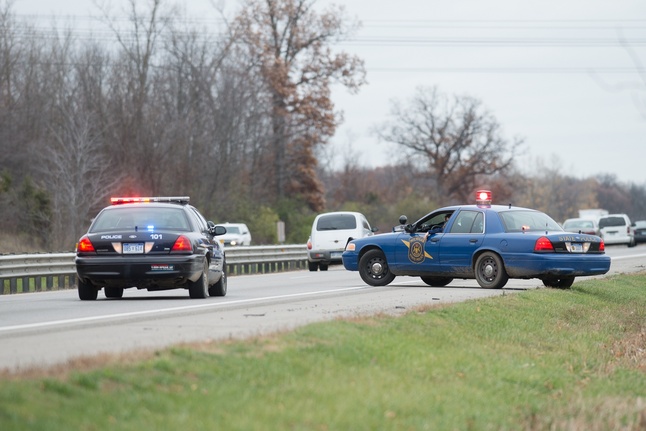 Courtney Sacco | AnnArbor.com
This story has been updated.
Updated story: Police: Incident reported on U.S. 23 near I-96 not believed to be shooting
Related story: Victim of I-96 Michigan shooter recovering, calls experience 'terrifying'
Police took another report of a Michigan freeway shooting Monday morning on southbound US-23 just north of I-96, but hours later police said it appears that damage to a vehicle was not caused by gunfire.
Within minutes of the initial reports, Michigan State Police converged on southbound US-23 near North Territorial Road in Washtenaw County. However, it took until a briefing just before 1 p.m. to confirm the incident was not in fact a shooting.
Sgt. Chris Pascoe reported the suspected shooting occurred at 9:05 a.m. A woman was driving on southbound US 23 north of I-96 when her vehicle was struck. A hole was left in a passenger side window and police are still investigating what might have caused the damage.
Traffic was backed up on US-23 southbound as police reportedly closed a lane and were investigating multiple vehicles.
Officers were observed taking a driver into custody at gunpoint at the location a few miles north of Ann Arbor at about 9:20 a.m., according to witness reports. However, there was no official word of a suspect from the incident being arrested as of 9:50 a.m. Monday.
Pascoe said arrests were made on people who had outstanding warrants, but no suspects from the shooting were arrested.
An official in Wixom Police Department declined comment, stating the department had nothing to release at this point.
A Livingston County sheriff's deputy said the department had no information to release this morning.
The Bureau of Alcohol, Tobacco, Firearms and Explosives is also involved in the investigation, officials confirmed.
Initial word from police was drivers were being stopped as potential suspects on southbound US-23 but none were the person believed to be involved in the shooting.
Brighton Area Schools were on lockdown Monday morning. School officials decided to lock down about 9:30 a.m. because of reports they received from the police liaison officer, Superintendent Greg Gray said. The schools had lifted the lockdown as of 11:40 a.m..
Police are investigating a total of 24 shootings on I-96 during October, according to the Detroit Free Press. Two shootings took place on Saturday, when one person was injured. That shooting took place near Fowlerville.
Police were still on the scene of the reported shooting. A ballistics investigation team was checking the area as of 11 a.m. Monday.
Sgt. Geoff Fox, of the Washtenaw County Sheriff's Office, said deputies were notified of the reported shooting and assisted state police troopers in investigating cars on southbound US 23. He said no one was arrested at this point to his knowledge.
Some media reports indicated a separate possible shooting may have occurred on I-96 near Grand River Avenue, but officials at the Brighton Police Department said they were not aware of any incident. Green Oak Township police said they were not involved in the investigation as of 11:10 a.m.
AnnArbor.com will continue to follow this story and will update as more information becomes available.
Reporters John Counts and Amy Biolchini contributed to this story.
Kyle Feldscher covers cops and courts for AnnArbor.com. He can be reached at kylefeldscher@annarbor.com or you can follow him on Twitter.