Posted on
Tue, Dec 11, 2012 : 9:45 a.m.
Fire that injured 1 woman, damaged 4 apartments deemed suspicious
By Kyle Feldscher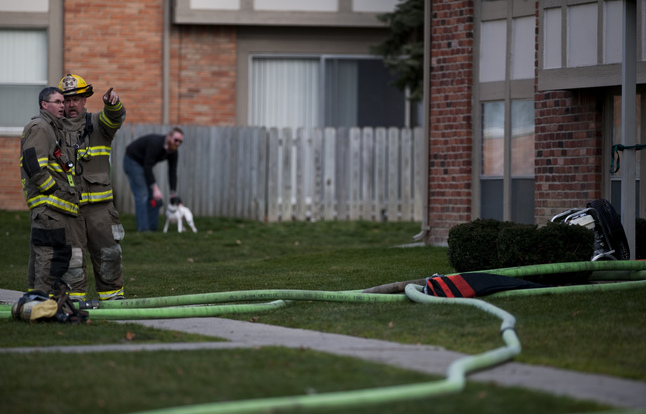 Daniel Brenner | AnnArbor.com
A fire at the Spice Tree apartment complex in Pittsfield Township injured one woman and damaged four apartments Tuesday morning.
Firefighters removed the woman from a third-floor apartment, where she was found unconscious but breathing, according to a statement. The fire has been declared suspicious and police and fire personnel are investigating the incident.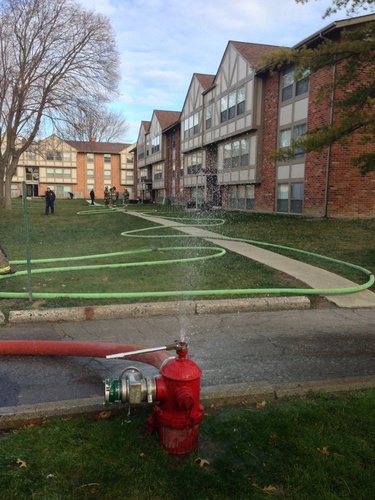 Daniel Brenner | AnnArbor.com
The woman was taken to the University of Michigan Hospital in unstable condition, Huron Valley Ambulance spokeswoman
Joyce Williams
said.
The fire broke out shortly before 9 a.m. in a back apartment in the third floor of the three-story apartment building at 4780 Washtenaw Avenue, said Capt. Jeff Foulke of the Pittsfield Fire Department.
The fire caused moderate fire damage to one apartment and smoke and water damage to three others. Residents from those apartments will need temporary housing, firefighters at the scene said. Eight other apartments were evacuated but not damaged.
Firefighters had the fire under control by 9:20 a.m. Firefighters from Pittsfield Township, Ann Arbor, Ypsilanti and Ypsilanti Township responded.
Williams said the woman was trapped on the third floor along with an unknown number of other people when the fire first started. Pittsfield Township police evacuated the residents from the first and second floors and firefighters were eventually able to make it to the third floor and get the residents of those four apartments outside, Foulke said.
There was no visible damage to the outside of the apartment building.
Foulke said the fire originated in one apartment but the cause is still under investigation and wasn't immediately clear.
Further information about the injured woman's condition was not immediately available.
Kyle Feldscher covers cops and courts for AnnArbor.com. He can be reached at kylefeldscher@annarbor.com or you can follow him on Twitter.