Posted on
Sat, Sep 24, 2011 : 1:40 p.m.
Apple cider and sauce lovers visit Pittsfield Grange's Apple Day
By Lisa Carolin
Lisa Carolin | For AnnArbor.com
It's the first Saturday of autumn and Michigan apples are in abundance. That's evident today at the
Pittsfield Union Grange
on Ann Arbor-Saline Road where Apple Day is being celebrated until 4 p.m. The big draw are the apple presses that are being used to make apple cider.
"These apples are no good for anything else, so I'm making cider to get some use out of them," said John Loechli, who was injecting some muscle as he turned the press. "This cider is actually good. It has no preservatives and will last a couple of months."
For Webster Township resident Alison Holmes, the goal is to let the cider ferment in her basement for the next four months to let it turn into hard cider.
"I'll be testing it periodically," she said. "I just really like hard cider."
"Michigan is a big apple state, and there are lots of small orchards around here," said Joan Hellmann, president of the Pittsfield Union Grange, which has close to 50 members and is the only grange in Washtenaw County. "Apple Day is our major event. It's nice to buy your food from people you know."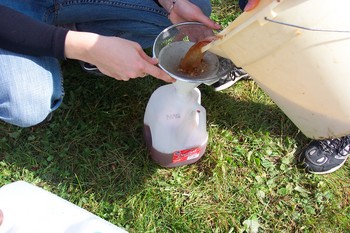 Lisa Carolin | For AnnArbor.com
Richard Raymond
, treasurer of the Grange, was pleased with the number of people who came to Apple Day.
"There aren't many old time farmers left," said Raymond. "We want to let people know where their food comes from."
Kara Johansen and her family are Ann Arbor residents who like to participate in food preparation.
"We picked our apples at Wasem's (Fruit Farm in Milan) earlier this week," she said. "We prepare a lot of our food from scratch and enjoy the process."
Some of today's participants sampled freshly made applesauce.
"I cut out the core and cook the apples for an hour, then mash them with a potato masher," said Debbie Johnson, who was doing a demonstration. "My mom used to make apple sauce and this brings back fond memories."
"These are traditional fall activities to do as a group," said Lisa Bashert, a beekeeper for the Ypsilanti Food Co-op. "More and more people are gleaning, meaning getting food from rental properties and abandoned orchards rather than letting it go to waste."
Many of the apples in use at the Grange today are feral apples from all over Washtenaw County. Amadeaus Scott knows a lot about the apple trees that abound in the county as well as the history of the state's apple harvest.
"I have an apple museum, which is set up in the Grange's dance hall today and will be at the Ann Arbor Farmers' Market in October," said Scott, who calls herself the museum's curator, director and janitor.
Also coming up in October is a program about learning to preserve apples that will be at the Grange on October 2. For more information, go to www.pittsfieldgrange.org/.