Posted on
Tue, Oct 18, 2011 : 5:59 a.m.
Developer says it's still unclear whether shifting from City Place to Heritage Row is viable
By Ryan J. Stanton
Previous story: Revised Heritage Row proposal wins initial approval from Ann Arbor City Council
Jeff Helminski told Ann Arbor officials Monday night his development team is still running the numbers to see if Heritage Row apartments is viable.
But he understands, as the city's attorneys explained, there's no turning back to the controversial City Place apartments project once Heritage Row is approved. If the council approves the rezoning for Heritage Row, City Place no longer legally conforms.
"We're still in the evaluative stage of doing our underwriting and our due diligence on this version of Heritage Row, fully understanding that if Heritage Row gets approved, it will be something that we've bought into, the city's bought into, and that would replace the City Place option," Helminski said. "We're hopeful that's where we get to."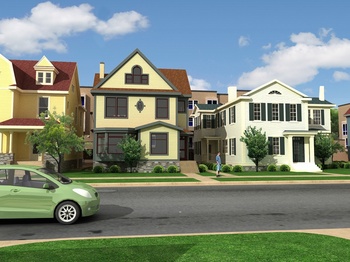 The
Ann Arbor City Council
voted 8-3 Monday night in favor of a revised version of Heritage Row in an effort to stop the demolition of seven century-old homes in the Germantown neighborhood just south of downtown.
Eight votes are required to approve the 85-unit project when it comes back for final consideration next week, and the initial approval at first reading is an early indication that might happen.
Helminski said he and other members of his team share the community's concerns about wanting to preserve the look and feel of the streetscape on Fifth Avenue, where the seven homes stand in the way of the approved City Place by-right project. Heritage Row, an alternate proposal, would preserve the seven houses and add new apartments behind them, an outcome most residents and city officials prefer.
Heritage Row fell one vote short of approval last year, but some council members are rethinking their position in order to stop demolition of the seven homes.
Council Members Carsten Hohnke and Mike Anglin, both representatives of the 5th Ward, changed their votes from last year and came out in favor of Heritage Row Monday night.
Sabra Briere, D-1st Ward, and Stephen Kunselman, D-3rd Ward, maintained their opposition to the project, while Marcia Higgins, D-4th Ward, who supported the original Heritage Row proposal last year, changed her vote and opposed the project.
Hohnke, who has been leading the charge to bring back Heritage Row ever since it was revealed that Helminski was moving forward with City Place, gave credit to the city's staff for what he called "heroic efforts" to work out a deal with the developer.
Through negotiations in recent days, the number of affordable housing units included as part of the project has been mostly maintained. The original Heritage Row proposal last year showed 18 percent of the units as being affordable to low-income residents, while the new proposal shows 17 percent, which translates into 14.45 actual units.
The deal being considered involves an arrangement to provide monthly parking permits in the city's downtown public parking facilities in place of requiring the developer to build a costly underground parking garage onsite. Helminski and city officials seem to be in agreement that the spaces for Heritage Row tenants would be offered at market rate.
"We continue, as I said last time, to be on the field," Hohnke said, expressing hope for a successful outcome. "We haven't seen the last out yet. I think that's a positive thing."
Hohnke commented on the latest proposal, which he said is being considered because the last iteration of Heritage Row — proposed by developer Alex de Parry when he was still leading the project — turned out not to be economically viable.
The council agreed earlier this year to give de Parry an option to bring his last version of the project through the city's planning approval process, but he chose not to do so and eventually handed the project over to Helminski.
"It's not, in my view, a perfect solution to the problem that we're confronted with," Hohnke said of the latest version of Heritage Row. "For my part, I'd like to see a proposal that included somewhat less density, a stronger commitment to rehabilitation of the existing houses, and a unit mix that didn't include as much four- and five-bedroom units as is being proposed."
That being said, Hohnke said it's worth noting that the physical characteristics of the development have changed very little from the last Heritage Row proposal.
"There remain some significant public benefits in this proposal, including affordable housing, and I will say that that was a rather serious point of negotiation," he said. "Certainly the development team would benefit from fewer requirements around affordable housing. I think appropriately, with staff support, we maintained that in this proposal."
Hohnke also pointed to innovative land use and rehabilitation of the seven homes, which he and others consider historic, as public benefits that help justify the PUD zoning.
Higgins asked about a comparison chart presented by the city's staff, showing the differences between the Heritage Row proposal from June 2010 and the revised proposal before them now. She wondered if what was laid out Monday night is considered final.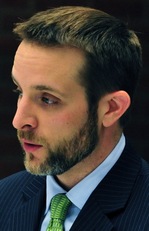 "My understanding is that the developer is still evaluating the cost items of all of these and that this was the closest we could come as of Friday last week so that you'd have something to react to," said
Wendy Rampson
, the city's planning manager.
Helminski said the accelerated process for approving Heritage Row is requiring extraordinary effort on the part of his development team, which also is working on a parallel track to move forward with City Place should Heritage Row not work out.
Helminski said he'll have a better idea of where his team stands after a conference call he's planning to have Friday with all of the project's consultants and financiers. If there's an element that turns out to be a deal breaker, he said he'll communicate that to the city.
A majority of council members voted Monday night to approve revised elevations for the City Place project to accommodate minor changes to the interior layout of the buildings and to improve exterior aesthetics. The council also agreed to give the developer some flexibility on landscaping and screening requirements for the City Place site plan.
City Place was begrudgingly approved by the City Council in September 2009, despite concerns about aesthetics and whether the project fits the character of the neighborhood. It legally conformed with city codes, so the council felt it had no choice but to approve it.
The developer since has taken several steps that indicate he's serious about moving forward soon, including moving tenants out of the houses and purchasing the property.
Anglin offered thanks to the developer for his willingness to negotiate with the city on a reconsideration of Heritage Row. He said if the project were proposed in another part of the city, not a near-downtown neighborhood, there wouldn't be the posturing that's going on now.
"In another spot, none of us would be here," he said. "There would be no discussion."
City officials indicated at Monday's meeting the affordable housing requirements for Heritage Row could be manifested in the form of payments in lieu of actually building those units.
Jennifer Hall, housing manager in the Office of Community Development, said the city has learned from past projects that requiring a developer to build a handful of affordable units as part of a project doesn't always translate to the type of product the city wants.
She pointed out the affordable housing units included in the downtown Ashley Mews condominiums project built on Main Street in 2002 cater mostly to graduate students.
"We really have come to the conclusion that cash in lieu is a preferable option, because if you do cash in lieu, it goes into the Ann Arbor Housing Trust Fund," Hall said. "And then we do a request for proposals from the community, and all of our funds thus far have gone to nonprofit housing organizations like Avalon Housing or Michigan Ability Partners."
By going that route, Hall said, the city actually can leverage federal and state funds and end up getting better affordable housing units.
"They may not be in the downtown, but in fact they may be larger units, they may be geared more toward families," she said. "And you get, I think, a better product because you know the people who are living there are really the lower end of the low-income spectrum, just because the people managing them and marketing them are nonprofit housing providers."
Hall said she'll be bringing back to council soon an updated cash-in-lieu formula equaling about $87,000 per unit. If that were applied to the 14.45 affordable units in the Heritage Row proposal, that would equal about $1.26 million the developer would have to pay.
Hinting at a project Avalon Housing has in the works, Hall said she's hopeful that money could be spent on actual affordable housing units within a year or two.
Ryan J. Stanton covers government and politics for AnnArbor.com. Reach him at ryanstanton@annarbor.com or 734-623-2529. You also can follow him on Twitter or subscribe to AnnArbor.com's e-mail newsletters.