Arbor Day: Arbor Brewing Company hosting fundraiser for Adopt-A-Park program
Posted on Fri, Apr 27, 2012 : 1:04 p.m.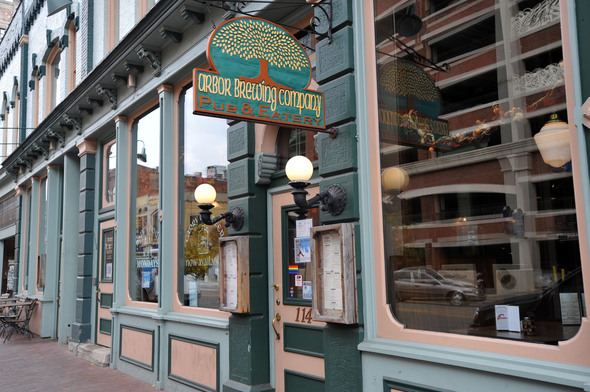 AnnArbor.com file photo

In recognition of National Arbor Day, Ann Arbor's Natural Area Preservation department is marking Arbor Day with two events this weekend, including a fundraiser with Arbor Brewing Company.

A limited spruce ale will be available Friday at Arbor Brewing Company in honor of National Arbor Day with a portion of its sales going to Ann Arbor's Adopt-A-Park program.

The ale, named Old Tijkko, is a blend of fresh spruce tips and Tulsi tea and was brewed particularly for Arbor Day. For every pint sold on Friday, $1 will be donated to the Adopt-A-Park program.

"This is an area where parks are very important and we want to make sure they stick around," said Sarah Adcock, Arbor Brewing event manager. "It has hints of fresh spruce. It tastes like a woodsy, outdoor beer. With graduation happening, and with this deal, I think we should have a great turnout for it."

This is Arbor Brewing's fourth year of hosting a fundraiser for Arbor Day.

David Borneman, Natural Area Preservation Manager, said the donations will go toward a variety of things for the program, including more trees, shrubs flowers and other native plants to help beautify Ann Arbor's parks.

The Adopt-A-Park program helps to organize volunteers looking to enhance area parks with things like tree and shrubbery plantings, litter cleanup and general caring to the parks.

Borneman said Ann Arbor residents can also help plant native shrubs in honor of Arbor Day during Sunday's stewardship workday at the Mary Beth Doyle Nature Area from 9 a.m. to noon.

Participants will be planting Northern Spicebush and the American Bladdernut shrubs, which will help support butterfly populations and provide food for local wildlife.

"Pitching in is a great way to help out your local park and give back to mother nature," Borneman said. "People often think about Arbor Day as a day for planting trees, but I would recommend people plant all sorts of native things like trees, shrubs and flowers."