Posted on
Wed, Nov 9, 2011 : 8:05 a.m.
Are we prepared? Emergency Alert System test today seeks answer
By Cindy Heflin
Be prepared for emergencies, safety experts are always telling us. But it turns out the people most responsible for the nation's emergency preparedness don't quite know how prepared they are to relay emergency information. They're trying to find out something about that today with a test of the Emergency Alert System.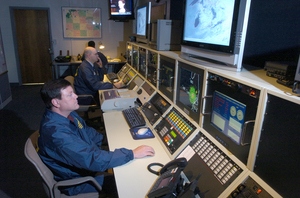 At 2 p.m. today, federal officials will conduct the first nationwide test of the Emergency Alert System. The 30-second test will interrupt programming on broadcast and cable television stations and radio station, and will send out emergency alert text messages to those subscribed to such services. Outdoor warning sirens will not sound.
The Emergency Alert System was developed several years ago to replace the Emergency Broadcast System. Although state and local officials frequently test the system, a nationwide test has never been conducted, said Marc Breckenridge, emergency services director for Washtenaw County.
The test by the Federal Emergency Management Agency will allow officials to find out if emergency messages are transmitted successfully to all the outlets that are supposed to receive them.