Posted on
Thu, Aug 26, 2010 : 6:03 a.m.
Washtenaw County bicyclists deal with sealcoating of popular routes
By Heather Lockwood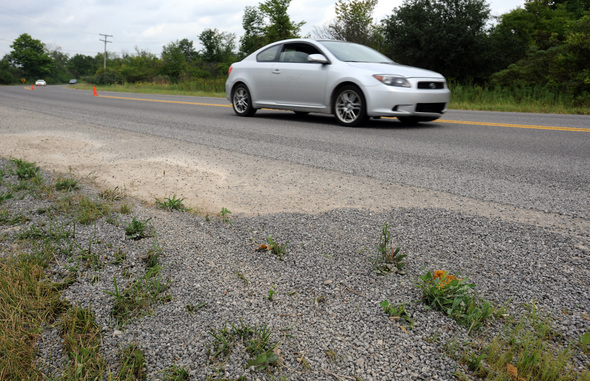 Melanie Maxwell | AnnArbor.com
Ann Arbor area drivers and bicyclists may have noticed a layer of fine, gravel-like material on some local roads and signs urging traffic to slow down due to "loose stones."
Washtenaw County Road Commission officials say they've been doing preventive maintenance, using a process called sealcoating to maintain the quality of the roads.
But not everyone is thrilled by the work.
Don Broadway, chair of the Ann Arbor Bicycle Touring Society, says sealcoating is a problem for cyclists.
"It renders the road unrideable for cyclists for a period of time until it's compacted, and even after it's compacted, it's a lousy road to ride," he said.
Broadway said sealcoat was recently placed on portions of two routes that have been a favorite of many area cyclists — Whitmore Lake Road and Plymouth-Ann Arbor Road.
"Both of these roads they've chip sealed were perfectly fine roads, they had no cracks, no pot holes," he said. "A lot of the club members are really upset. It forces us to take an alternative route."
Melanie Maxwell | AnnArbor.com
According to the Washtenaw County Road Commission, sealcoating is a preventative surface treatment. It does not correct existing irregularities, which is why it's used on roads that are in relatively good condition — to keep them that way.
The process consists of three steps: first, a liquid asphalt emulsion is applied to the road to fill in fine cracks and act as an adhesive; second, a layer of "finely grated slag material" is laid down; and finally, the road is re-striped, said Steven Puuri, managing director for the Washtenaw County Road Commission. As vehicles travel over the sealcoat, the loose material is compacted and becomes smoother over time.
Puuri said the road commission plans to place 59 miles of sealcoat this year.
"(Sealcoating) is widely used across many states ... and we have been using it for years," he said.
Puuri said the issue may have attracted more attention this year because the process has been applied to roads in the "urban area" where cycling is prevalent - more so than in years past.
Tom Sleeker, publicist and city chairman for the Ann Arbor Bicycle Touring Society, biked Whitmore Lake Road recently and said it is better than before, but still not perfect.
"It packs down in the center of the road first where all the traffic is, and all the gravel shifts to the sides," Sleeker said. "So you've got all this loose gravel, which is right where you (as a cyclist) want to be."
Puuri said that although the process doesn't offer instant gratification, it is cost effective.
According to the road commission, the cost to sealcoat one mile of a two-lane road is $17,000, and it's expected to last five to seven years. That compares to $98,000 to pave one mile of a two-lane road with bituminous asphalt, which has a life expectancy of about eight to 10 years.
Sleeker argues the benefits of the process aren't worth the costs.
"I'm sure that it's less expensive to do, but it's really unsafe for cyclists and I'm sure it's unsafe for motorists," he said. "I would prefer that they not chip seal. I'm not an engineer, I'm not an expert ... but from a cyclist's point of view, chip seal is not a good option."
Puuri asked motorists and cyclists to be patient.
"If the public, and in particular the bikers, could be patient with this work in progress, the road does tighten up," Puuri said. "(This process is meant) to save money and yet preserve the pavement."
Heather Lockwood is a reporter for AnnArbor.com, reach her at heatherlockwood@annarbor.com, or follow her on Twitter.