Posted on
Thu, Feb 9, 2012 : 5:57 a.m.
'We just don't want you here' Ann Arbor residents tell student housing developer
By Danny Shaw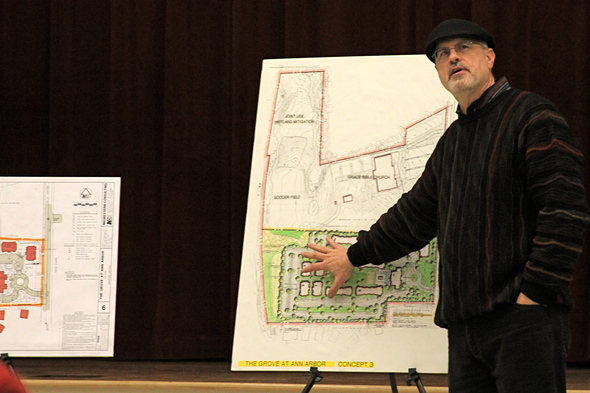 Danny Shaw | AnnArbor.com
More than 60
Ann Arbor
residents expressed their concerns about a proposed student housing project on the city's west side at a public meeting Wednesday.
One message was clear from the crowd as applause and cheer accompanied an attendee's comment: "We just don't want you here."
The student housing project, called The Grove, would be located on a 15-acre site just south of Grace Bible Church off South Maple Road near Pauline Boulevard.
North Carolina-based developer Campus Crest Communities is proposing 10 to 12 three-story apartment buildings, totaling about 224 units with two or three bedrooms. It includes 600 parking spaces- one per bed.
That's too many college students for their quiet residential area, said several attendees, especially considering its distance from the University of Michigan campus.
"Bottom line is we moved into this neighborhood to get away from campus," one resident said. "With you building right there, we all just might as well move back downtown."
One concern raised by several community members was the potential failure of the project. One attendee asked Chris Russ, vice president of development for the company, what would happen if students simply don't take residence at The Grove.
"Our confidence level is still at a high enough point to continue," Russ responded. "We do have properties that are over two miles away from a campus that run at 90 percent occupancy. We wouldn't be risking $20 million if we weren't confident."
Russ said Campus Crest Communities has more than 30 locations nationwide, and the average occupancy rate is above 90 percent.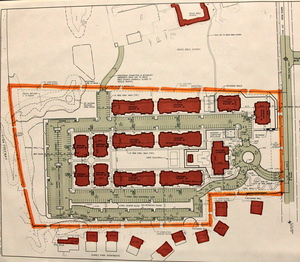 Danny Shaw | AnnArbor.com
Earl Ophoff
, a project manager at
Midwestern Consulting
, also responded to the question, saying at "worst-case" the buildings would be suitable to more than student housing, but it won't be something that needs consideration.
"With all due respect, I don't think this is going to be a successful project," one community member told Russ, followed with more applause from the crowd. "But I hope I'm wrong."
Another voice in the group asked what the purpose of the meeting was for, and if Campus Crest Communities has had enough opposition elsewhere to cease a project.
"We want to try and address as many concerns as possible, then we continue with the project, following city ordinances and codes," Russ said. "We have only stopped projects when the city doesn't allow us to continue- because of zoning laws and such."
Russ said there haven't been any changes to the plans since the Jan. 19 public meeting, and would need to review the current plans and public comment if any changes are to be made.
Other concerns echoed those of the last meeting: storm water management, water pressure issues, traffic and transportation, home values and crime and safety issues.
Not all anger was aimed at the site developers; one attendee said she is very disappointed with Grace Bible Church for listing the 15-acre parcel for sale.
The Campus Crest apartments - which typically cost between $15 and $20 million to develop - average a monthly $500 per bed for rent, but that figure will change based on the Ann Arbor market, Russ said.
"We will be at the upper-end of the market," he said. "Probably the upper 75 percent range, as far as quality of product and cost."
The compounds offer "resort-style amenities," such as a large pool, sand volleyball courts, basketball court, barbeque pits, game room, bistro eating area, coffee bar, library, fitness center, in-room washer and dryer and fully furnished apartment units.
The next step for the developers is to compile a report of the public feedback from the two meetings and include it in the proposal for the Ann Arbor Planning Commission. Russ said they hope to have the final site plans to the AAPC within the next month.
Contact reporter Danny Shaw at 734-623-2544 or dannyshaw@annarbor.com.