Posted on
Fri, Jan 18, 2013 : 10:34 a.m.
Student reports armed robbery at Eastern Michigan University apartments
By Kody Klein
An Eastern Michigan University student and his four visitors were robbed as they were leaving the student's apartment early Friday morning in the university's Westview complex, police said.
EMU police said two men approached the student and his guests as they were leaving the apartment about 1:30 a.m.. The men implied they had a weapon and then took jewelry, cell phones, and clothing items from the victims, police said.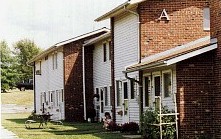 EMU photo
EMU Police Chief Bob Heighes said "statements that some of the guests made" have led police to consider one of the student's visitors a suspect.
"We have some indicators that one of the guests may have been part of the setup of this robbery," Heighes said. "We don't believe this was a random act."
No weapon was shown and no one was reported injured.
The robbers fled in an unknown direction. EMU and Ypsilanti police searched the area but were unable to locate them.
The victims said one of the robbers was a black man with a light complexion about 6 feet tall with a thin build. He was wearing a dark hooded sweatshirt and dark pants. A second suspect was described as a black man with a dark complexion about 6 feet tall with a thin build. He was wearing dark clothing, including a hooded sweatshirt and a knit cap.
Police provided no description of the visitor who is considered a suspect.
Westview Apartments is located next to Rynearson Stadium on the west side of campus.
Anyone with information regarding this incident is asked to call EMU police at 734-487-1222.

View Armed robbery in a larger map