Posted on
Tue, Oct 16, 2012 : 4:26 p.m.
Armed robbery suspect who wants private attorney gets 2-month adjournment
By John Counts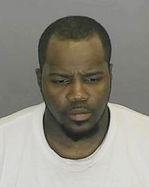 Courtesy of WCSO
A judge granted a two-month adjournment Monday to a Detroit man accused in an Ypsilanti armed robbery.
Desmond Parker, 26, requested the lengthy adjournment so his family can raise enough money to retain a lawyer.
"Attorneys in the private sector are expensive," said Assistant Washtenaw County Public Defender Stephen Adams, who spoke for Parker at the Circuit Court hearing Monday.
Judge Melinda Morris granted the request, but only after explaining that the two months Parker will spend in jail cannot be used as credit. Since Parker is also being held for violating parole, none of his time in jail since his July arrest could be used as credit anyway, Adams explained.
His next hearing is now scheduled for Dec. 10.
Parker was arrested shortly after the gunpoint robbery of a store in the 800 block of North Huron River Drive round 2 a.m. on July 2, police said.
The business's owner was outside on a cigarette break when a gun-wielding man told him to go back into the store, Ypsilanti police Sgt. Thomas Eberts said.
Parker is accused of making the man open the register, grabbing cash and fleeing the store. The business owner was not injured.
An officer with the Eastern Michigan University Department of Public Safety who wasn't yet aware of the robbery noticed a suspicious person in the area, but was unable to make contact with him, Eberts said.
When police realized the suspicious person was a suspect in the armed robbery, police surrounded the area and began searching. An Ypsilanti police officer climbed a fence and found Parker trying to hide a gun under a shed, Eberts said.
Parker tried running again, but police soon took him into custody. Both the money and the gun were recovered, police said.
Parker was on parole for unarmed robbery at the time. A warrant had been issued for his arrest for not reporting to his parole officer. State prison records show he was sentenced to 1-15 years for unarmed robbery in October 2005. Parker was paroled in October 2011, according to the state's Offender Tracking Information System.
Parker was arraigned in the district court July 3. His first preliminary examination a week later was rescheduled because Parker wanted a new attorney then, according to court records. At his exam on July 25, Parker pleaded not guilty to armed robbery, felony firearm, carrying a concealed weapon, assaulting or resisting a police officer and possession of a firearm. The case was bound over to Circuit Court.
At a pretrial hearing in Circuit Court on Sept. 24, Parker asked for a new court-appointed attorney, but that request was denied, court records indicate. That hearing was then adjourned until Monday.
Parker is being held at the Washtenaw County Jail on a $100,000 cash or surety bond.
John Counts covers cops and courts for AnnArbor.com. He can be reached at johncounts@annarbor.com or you can follow him on Twitter.