Posted on
Tue, Aug 7, 2012 : 9:12 p.m.
Warpehoski beats Armentrout in 5th Ward race for Ann Arbor City Council
By Ryan J. Stanton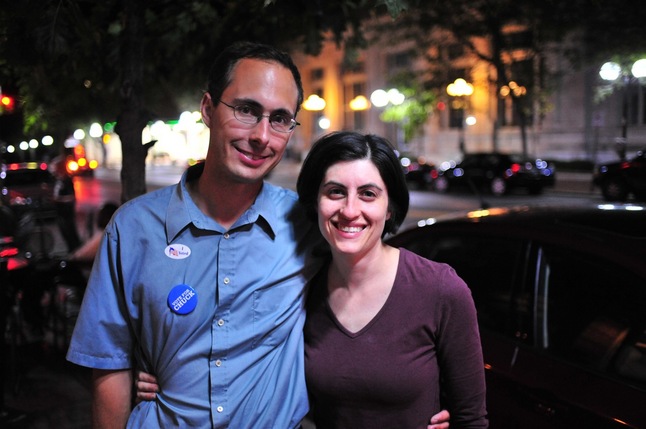 Ryan J. Stanton | AnnArbor.com
With all 11 precincts reporting,
Chuck Warpehoski
has defeated fellow Democrat
Vivienne Armentrout
in the 5th Ward primary race for the Ann Arbor City Council.
The final vote count was 1,709-1,320, giving Warpehoski 56.3 percent.
Armentrout and Warpehoski were competing for the open seat being vacated by Carsten Hohnke, who announced earlier this year he wouldn't seek re-election.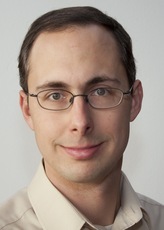 The winner of Tuesday's primary will take on
Stuart Berry
in the November general election, but the chances of a Republican winning are slim.
Armentrout was at somewhat of a loss of words at the end of the night, but she said she doesn't think she lost by a humiliatingly large margin.
"I'm really going to have to sleep on it to say what my larger thoughts are, but I'm not personally upset and disappointed, but I am concerned about the direction of the city," she said. "I've been told repeatedly tonight that I must continue with my blog and I must continue offering my insights and knowledge and so forth."
Armentrout added that it was personally satisfying that she received so much support and that she was able to make sure there was a public discussion on important issues.
"I had a lot of people work very hard for me and give very generous of their time and it was a really rewarding experience on a personal level, even though the result was a loss," she said.
Warpehoski, director of the Interfaith Council for Peace and Justice, ran against Armentrout with support from Mayor John Hieftje and some of his political allies, including Hohnke.
Warpehoski, an alternative transportation advocate, is in favor of expanding public transit services countywide and building a new train station in Ann Arbor. Armentrout, a former Washtenaw County commissioner and staunch council critic, ran on a campaign platform at odds with the mayor's agenda, including those projects.
In the past, Armentrout opposed decisions to build a new police-courts building and a new underground parking garage downtown. She also worked to defeat a hotel and conference center proposal for the Library Lot, where she and others would like to see a new downtown central park atop the underground garage.
Some pundits saw Armentrout as the favorite because of her name recognition in the ward, having been a county commissioner from 1997 to 2004. She lost by a 53-vote margin when she ran against Hohnke in 2008, and only after Hohnke spent $20,000 campaigning that year.
Even though he has the mayor's endorsement, Warpehoski noted during the campaign that he and Hieftje don't see eye to eye on every issue.
Comparing himself to Council Member Sabra Briere in terms of style, Warpehoski said he's already informed the mayor he would push him on some issues and act independently on council.
"The way I lead and the way I serve is by listening, by engaging people, hearing what their concerns are, finding out where that common ground is to move forward," Warpehoski said during the campaign. "This is the skill, this is the value, that I hope to bring to City Council."
Armentrout and Warpehoski both said during the campaign they wanted to improve public process. Armentrout said if the city is going to choose to involve the public, it should take into account what the public has to say, and she's not sure that happens all the time.
Ryan J. Stanton covers government and politics for AnnArbor.com. Reach him at ryanstanton@annarbor.com or 734-623-2529. You also can follow him on Twitter or subscribe to AnnArbor.com's email newsletters.