Posted on
Sun, Mar 10, 2013 : 12:30 p.m.
Artisan coffee shop and juice bar opens in downtown Ann Arbor
By Kody Klein
Joseph Tobianski | AnnArbor.com
When
Jason Friend
named his new coffee shop, he took inspiration from its enormous glass walls that provide a panoramic view of the streets they face.
"People kept coming in and saying things like, 'glasshouse' or 'aquarium' or 'fishbowl,'" Friend said. "None of those things sounded that good. Then somebody mentioned 'glassbox.' It's an architectural term and I just thought it sounded nice."
Glassbox Coffee, 1335 S. University Ave., will officially open Monday, in a roughly 700-square-foot space leased from Campus Realty.
The shop will serve specialty coffee and espresso drinks, as well as fresh artisan juices.
"We take great care in sourcing our beans," Friend said. "The roasters we buy from are without any doubt a few of the top 10 in the entire country."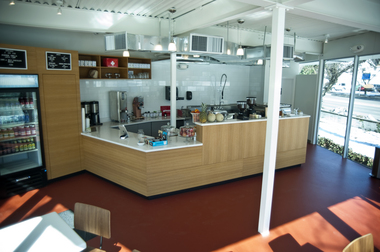 Joseph Tobianski | AnnArbor.com
The espresso beans will be from Gimme! Coffee and the featured coffee beans will rotate between Verve, Stumptown and Michigan's own Madcap Coffee.
The fruits and vegetables used in the all-natural juices are sourced from Ann Arbor's Frog Holler Organic Farm.
"Some people have the wrong impression that juices have to taste bad," Friend said. "If you use really fresh, quality ingredients, you can combine them in a way that's really good."
For people who prefer more simple and straightforward juice, Glassbox has flavors like Orange Perfection, made with freshly juiced blood orange and mint. But those wanting something more complex can order juices like the KGB, made with kale, ginger, basil, cantaloupe, and pineapple.
"You would think that kale is so gross in a juice but when you combine it with certain things, you can't taste it at all," Friend said. "It doesn't taste like you're drinking a salad."
In addition their actual products, Friend said he hopes Glassbox will be recognized for its staff as well.
"It's about how you make people feel while they're here," he said. "We want people to feel like we want them here."
Glassbox is open from 8:30 a.m. to 6:30 p.m. on Monday through Friday, and 10 a.m. to 5 p.m. on Saturday and Sunday. As spring creeps in, Friend said hours will be extended and outdoor seating will be installed.
Kody Klein is an intern for AnnArbor.com. Reach him at kklein@mlive.com