Posted on
Fri, Jul 23, 2010 : 6 a.m.
As quest for 100 mpg resumes at Michigan International Speedway, a few elite competitors emerge
By Ronald Ahrens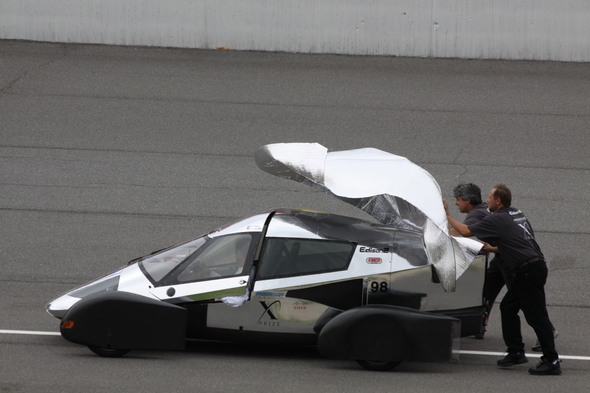 Photos by Ronald Ahrens | For AnnArbor.com
The quest for 100 miles per gallon has resumed at Michigan International Speedway.
Since the final round of the Progressive Automotive X Prize started on Monday, a pair of teams that created unconventional cars with traditional racing technology have made bold moves to win their individual classes and pocket much of the competition's tantalizing $10 million in prize money.
One contender is the Edison2 team's Very Light Car, a 750-pound seedpod on wheels that burns an ethanol-gasoline blend and unofficially achieved 129 miles per gallon during Thursday's testing at MIS. Edison2—made up primarily of engineers and mechanics from the world of endurance racing at such tracks as Daytona and Le Mans—stands to win half the prize money if such results continue.
Only two entries remain in the X Prize's mainstream class for four-seat vehicles, which offers a $5 million. Both are Very Light Cars, one driven by Emanuele Pirro and the other by Brad Jaeger.
The Very Light Car's turbocharged, single-cylinder, 250-cubic-centimeter engine was developed by Raetech Corporation, a small Ann Arbor specialty firm led by David Finch.
"The numbers we're now producing, the engine had to go out of the ordinary, and this one's out of the ordinary," said team leader Oliver Kuttner.
The other bright hope from the racing world is the Li-ion Motors Wave II, a battery-powered two-seater. Built of steel tubing, wrapped in a fiberglass body, and painted a wild hue of green, the Wave II looks like an undersea creature that would be discovered at the deepest depths.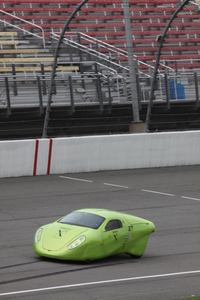 Based in Mooresville, N.C., the Li-ion team comes from the heart of NASCAR country, and its members have participated in several forms of racing, from the drag strip to the sports car track, said leader Ron Cerven.
"Everybody really puts the package together," Cerven said.
The Wave II threatens to win the toughest class: cars with two seats arranged in a side-by-side configuration. Among the 8 remaining competitors are the RaceAbout, from Finland; the TW4XP, from Germany; the Aptera 2e, from San Diego; Western Washington University's Viking 45; and the Zap Alias driven primarily by two-time Indianapolis 500 champion Al Unser Jr.
There's also a class for two-seaters configured in front-and-back tandem style. This specification allows for extremely unusual entries such as the E-Tracer, an enclosed electric-powered motorcycle with balancing wheels that deploy from the sides as the vehicle begins to wobble at low speed. The foam-bodied Spira4U, with a gasoline-fueled engine, gives chase in the class. A Very Light Car with tandem seating also remains in contention.
The jackpot is $2.5 million for each class of two-seaters.
The Progressive Automotive X Prize is the latest in the X Prize Foundation's series of competitions designed to advance knowledge and technology in such areas as space travel and genomics.
A stated goal is to spur the development of cars that would be viable for sale and use in the near future.
Calling the finals stage "a tough hurdle," X Prize director of technical operations Steve Wesoloski said, "We're really pushing the auto industry."
A total of 12 teams with 15 vehicles advanced to the finals after last month's "knockout" round, which required 67 miles per gallon.
Any entry that hasn't averaged at least 90 miles per gallon after this week's testing will not advance to grueling tests that remain ahead next week.
The on-track phase of the X Prize, which began in April, will end Tuesday. Survivors will then go to Argonne National Laboratory, near Chicago, and spend three to four weeks in August in laboratory testing. In this way, the on-track results will be verified and class winners named. Martin Moscheid, leader of the TW4XP team that fields an electric-powered three-wheeler, hoped their vehicle, called the Twike, would move on. Overheating of the electric motor had caused some uncertainty, but he took a positive view.
"We still have a chance," Moscheid said. "We're still in the race."