Posted on
Mon, Oct 25, 2010 : 2:52 p.m.
Andrew Shirvell's attorney threatens lawsuit against University of Michigan
By Juliana Keeping
An attorney representing Michigan assistant attorney general Andrew Shirvell plans to ask the University of Michigan to allow his client back on its 3,000-acre campus, now that U-M's student body president has dropped his request for a personal protection order against Shirvell.
And if the trespass warning issued Sept. 14 isn't rescinded, a lawsuit against U-M will likely follow, said Philip Thomas, Shirvell's attorney.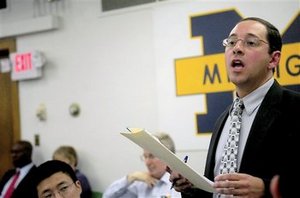 Armstrong, who is the university's first openly gay student body president, filed the restraining order request Sept. 13 after Shirvell launched a blog attacking him for his "radical homosexual agenda" and started showing up at events and outside his house to protest and heckle him.
Shirvell maintained his actions constituted protected speech guaranteed under the First Amendment. The events sparked a media firestorm, and Shirvell took a voluntary leave Oct. 1, possibly using his own vacation time, Thomas said.
A Nov. 5 hearing will determine what disciplinary action, if any, will be taken against the assistant attorney general at work.
According to Thomas, his client has tried to get a hearing with U-M Public Safety Director Ken Magee at least three times since campus police read Shirvell a trespass warning on Sept. 14.
A meeting hasn't yet been scheduled, and Thomas said they haven't heard back. A campus police spokesperson confirmed there a meeting with Magee hadn't been scheduled as of Monday.
"In the matter concerning the appeal of the trespass, we want that withdrawn," Thomas said. "He should be able to go onto that campus for whatever reason. It's legal as long as what he's doing is legal, and he's not threatening in any way."
Thomas said his client is proud of attending the University of Michigan and loves his school.
"The next step would be the courts," Thomas continued.
Thomas said his client hasn't been charged with a crime and didn't threaten Armstrong, although Armstrong described feeling threatened in his request for a personal protection order. Armstrong withdrew that request this morning.
"But we're confident when they see the Ann Arbor Police Department report, as well as evidence that the PPO has been dismissed, we're hopeful that we're going to be able to get both of those matters resolved, and that cooler heads will prevail," Thomas said.
A university spokesperson did not immediately respond to an e-mail from AnnArbor.com.
Juliana Keeping is a health and environment reporter for AnnArbor.com. Reach her at julianakeeping@annarbor.com or 734-623-2528. Follow Juliana Keeping on Twitter