Posted on
Sun, Nov 27, 2011 : 7:55 a.m.
At age 94, Hospice volunteer Al Wooll gives us all hope
By Kyle Poplin
At 94, Al Wooll is old enough to remember horse-drawn milk and produce wagons visiting his home on unpaved Milwaukee Street, which is now slap in the middle of Detroit.
Yet he remains hip enough that he identifies with the Occupy Wall Street crowd: "I think they're absolutely right," he says. "Corporate greed is sickening."
He's one of those guys who gives us all hope; hope in the basic goodness of humanity, and hope that we might somehow be able to cheat Father Time.
Al's a "well-qualified driver" -- he had himself tested at the University of Michigan -- who recently drove himself to Indianapolis and is known to pop up to Traverse City once in a while. He sets the cruise control at 1 mph below the speed limit and sets off.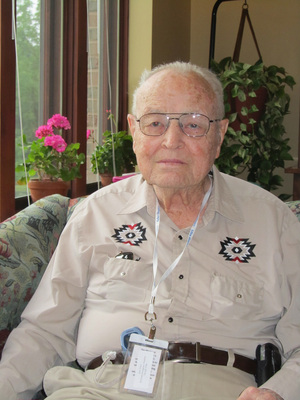 He also loves to travel by train, often by himself. He recently traveled alone by rail to visit his son in Texas.
He does all kinds of things for himself: cooks, cleans, you name it. But it's what he does for others that makes Al Wooll special.
At least three times a week, he volunteers at the Residence of Arbor Hospice.
All the patients at Arbor are expected to die within six months. Al acknowledges that but doesn't focus on it.
"Death here is an accepted part of the deal," he says. "They know and I know that they're not going to be here a long time."
Besides, Al says, he has a pretty good idea of what death is like and it's not all that scary: "It is total and absolute oblivion. I've experienced that in surgery."
Al's second wife, Alma, spent her last few months at Arbor Hospice before dying of heart disease in September 2010. Al was impressed with the compassionate care she received, and after her death decided to undergo training to be a volunteer. He started in April.
His style of volunteering is understated, much like Al himself. He asks staffers which patients might want to talk to him, or generally just introduces himself to folks and then determines if his presence is appreciated. Otherwise he talks to anyone who stops by as he sits patiently in the lobby knitting or surfing the 'Net on his iPad.
Yep, you read that right. He's been knitting for 90 years and using computers since, well, since before they were called computers.
He's prolific with those knitting needles. In addition to making gifts for residents, he's made more than 300 caps for cancer patients.
For years, he was a "closet knitter," sensing it was something "real men" didn't do, but now he's proud to display his talents in such a "productive, useful pastime."
The only arthritis he's ever had is a bump on his thumb.
As for computers, he learned to embrace them years ago, when the only way to access them was to hook up by teletype. A metallurgist by trade, Al created some of the first statistical analysis programs while running an X-ray lab in a foundry. He also worked for Alcoa during World War II doing special castings, including the jackets for the bombs that ended that war.
Al had heart surgery last summer to relieve blocked arteries. He started playing harmonica again, in part to help with his breathing problems. He practices a little every day and it's made him feel better, but he quickly adds, "I don't play it for me. I do it for (the patients)." They love the old songs, he says, mainly hymns.
That's not enough giving back, so Al makes sure makes there's a big pot of soup in Arbor Hospice's dining area every day for patients, family members and visitors to enjoy. He does that in memory of Alma.
Al first married in 1942, to Gladys, mother of his two children, James J. and Elizabeth. Gladys died of Alzheimer's in 1982, only 18 days after Al retired. He married Alma in 1984. They shared a love of travel and toured the world: France, Norway, Spain, Portugal, Turkey, England, Japan, China, Russia. His favorite? To Al, the scientist, that's a crazy question. "They're all fascinating," he says, stating what should be obvious.
Al keeps abreast of current events and clearly has a unique perspective on them. He's especially interested in the economy, which he recognizes is bad these days, but nowhere near as bad as during the Depression, which he remembers quite clearly. His father had a job as a barber back then, giving 25-cent haircuts six days a week, then cutting hair free for out-of-work neighbors on Sundays.
So, to the question that everyone asks Al: What's the secret to a long, productive life? He says genetics help. Al's mother lived past 105.
Still, he's fanatical about weight - both his own and of everything he eats. Yep, he weighs everything he cooks, because he wants to maintain consistent portions. When he says, "I don't overeat," he means it.
Why the volunteer work? "What else should I do?" he asks in his ever-humble manner. "I can't play golf. I won't bother to play bridge or pinochle.
"This is productive, it's beneficial, it makes me feel I'm accomplishing something, as small as it might be."
Kyle Poplin is publisher of The Ann magazine, which is inserted monthly in various print editions of AnnArbor.com. He's also searching, through this column, for the most interesting person in Ann Arbor. If you have anyone in mind, email your idea to theannmag@gmail.com.