Posted on
Wed, Mar 7, 2012 : 3:52 p.m.
Multiple departments responding to 3-acre brush fire in Superior Township
By Kyle Feldscher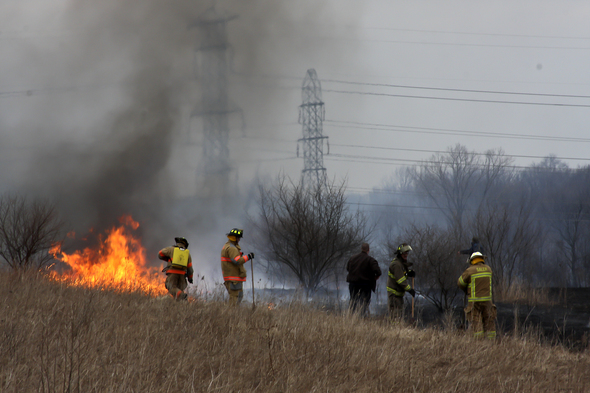 Steve Pepple | AnnArbor.com
High winds are fueling a 3-acre grass fire northeast of Ann Arbor this afternoon.
Three fire departments responded to the blaze near Joy Road and Dixboro Road in Superior Township.
Superior Township firefighters got to the scene and requested help from Ann Arbor Township and Salem Township fire departments to control the blaze.
By 4:30 p.m., firefighters remained on the scene, controlling the blaze even as the winds caused the flames to reach up to 6 feet from the ground.
One house had been evacuated as the fire moved further and further north Wednesday afternoon. Luckily, Katie Pecoraro was home with her 4-year-old son Gabriel who had fallen sick Wednesday. Katie Pecoraro said she first noticed the smoke from the fire at about 3 p.m.
"I looked out the back window and saw a lot of smoke and I thought, 'Oh someone must be burning brush or something,'" she said. "It was a little windy, so I looked out the side window and saw kind of a faint glimmer on the horizon and thought, 'Oh that's not good."
Katie and her husband Chuck Pecoraro were still standing near their car in the court near their home watching firefighters attempt to beat down the brush fire at about 5 p.m. Wednesday. They said firefighters assured them the fire would be kept on the other side of the tree line that stands about 100 feet from their home.
Katie Pecoraro said firefighters asked the family to evacuate the home at about 4 p.m., when the flames were beginning to near the tree line south of their house.
The flames were traveling northwest and leaving large swaths of scorched grass - but still-standing trees and shrubs - in their wake.
The fire is in a farm field just south of the Dixboro Farms subdivision, where fire fighters also are stationed to prevent damage to homes. The fire started on the Superior Township side of the border between it and Salem Township, but was moving into Salem Township as Wednesday's high winds continued to blow.
Firefighters on scene said they weren't sure what started the fire, which was still burning after 5 p.m. Wednesday. However, firefighters on scene said there were just a few hot spots still burning and one small line of fire heading toward the tree line was being worked on.
As winds would gust, the flames would respond by reaching about 15 feet in the air at times, but regularly burning between two and feet off the ground.
Southeast Michigan is under a high-wind advisory until 7 p.m.
Kyle Feldscher covers cops and courts for AnnArbor.com. He can be reached at kylefeldscher@annarbor.com or you can follow him on Twitter.