It's a dance with the past for students at Ann Arbor memoir-writing class
Posted on Sun, Mar 13, 2011 : 1:05 p.m.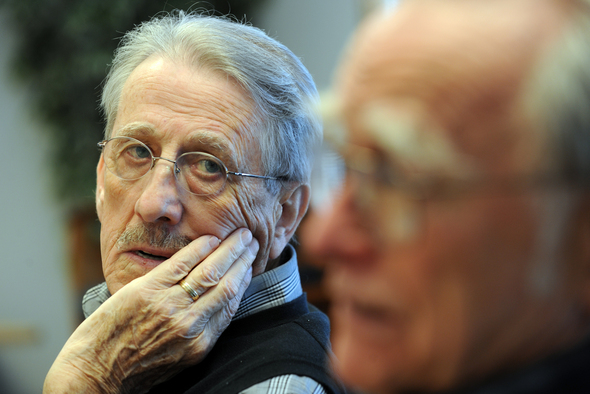 Lon Horwedel | AnnArbor.com
For John Bayerl of Ann Arbor, memoir writing class had always been more social than therapeutic. Beyond the benefits of writing regularly, it was a great way to meet new people.
That was a decade ago — before the death of his wife, Gwen. Before he discovered how words could flow from his mind into poetry in tribute to her.
When Gwen was diagnosed with Stage 4 lung cancer, John stopped attending class. At the time of her diagnosis, Gwen was told she'd have nine months to live. She lived for five years before succumbing last November.
Since Gwen's death, Bayerl has cranked out some 40 poems, all of them in Gwen's honor.
"The words have to be coming from God and Gwen," he wrote in an essay titled "Letters From the Past." "She does still write me letters, I am sure of it. There's no other explanation for it."
Bayerl, a former counselor at Community High School, was one of several seniors at the Osher Institute for Lifelong Learning's memoir writing class on a recent Wednesday afternoon. The class meets from 1 to 2:30 p.m. on Wednesdays in the OLLI Sun Room and is taught by Zibby O'Neal, author of nine books, including "In Summer Light" and "The Language of Goldfish."
The personal and the political
The class is as much about fellowship as it is writing. Between the frequent, memory-fueled crosstalk and the supportive and sometimes flirty feedback that followed the readings, the class could've resembled a freshman composition class at U-M if it didn't meet in a building called the Turner Senior Resource Center.
Mary Fancher was another student in class that day. Her essay, "Radio: Past and Present," spoke to the fascination with which her generation viewed the radio, compared to the role as background noise it plays with some youth today.
"When I was young, radio was a more important part of my day. Something else was different, too," she wrote. "I didn't just listen: I sat in a chair or lay on the floor and watched the radio.
"I stared at that large wooden cabinet … but I was not seeing the radio at all. I was seeing Jack Armstrong, the All American boy, Terry and the Pirates … and of course that masked rider and his 'High-Yo' horse, Silver."
It wasn't until the 1950s as a University of Michigan student that Fancher actually saw a television, which would soon supplant radio.
More than a half-century later and she can still remember being annoyed by the first advertisements she saw on TV.
"The worst ads," she wrote, "came from Del Rio, Texas, boasting a—"
"Weren't they based out of Mexico?" classmate Don Axon interjected, finishing her thought, memories in full jog.
"— huge transmitting tower in Mexico," Mary said, and continued reading.
O'Neal said that her goal is for the students to have fun and to learn something about themselves and their times.
Smita Jagdale of Ann Arbor was attending her first class that Wednesday. Jagdale moved to Ann Arbor from the downriver area a few years ago after her husband passed away. Writing is her companion nowadays.
"My soul does not want to die before I write," Jagdale said. She was one of the few who arrived with the express purpose of producing a full memoir.
The students' writing touches on the personal and the political. Donna Anuskiewicz, a former English teacher at Lincoln High School, shared an essay on the controversy surrounding the newly released, newly sanitized editions of Mark Twain's "The Adventures of Huckleberry Finn," in which n-word is replaced with slave and Injun Joe becomes "Indian Joe."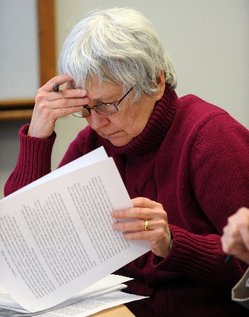 Lon Horwedel | AnnArbor.com
"Shouldn't it be Native American Joe?" Axon said, taking a sardonic jab at the politically correct times.
Anuskiewicz used two rules to minimize controversy in her classroom when she taught the book: First, the class would read the book as-is. Second, the class would refrain from using the inflammatory words in discussions. As she pointed out in her essay, Jim is the only Jim in the book — no need to further specify with adjectives.
After getting her Huck Finn letter published in The New York Times, Anuskiewicz was invited to speak on "Cross-Country Check Up", a CBC2 radio show hosted by Rex Murphy. She was the only high school teacher in the discussion.
"I'm glad I spoke up," Anuskiewicz wrote. "As a teacher, I relished the idea that someone thought I had something worthwhile to say. That doesn't happen very often for people in my profession."
Revisiting the past
When Gwen passed away in November, John found himself alone for the first time in 47 years. He has found comfort in digging through old letters the two wrote in the year before they were married, when they were living 115 miles apart from each other in the Upper Peninsula — John in Menominee, Gwen in Gaastra.
Now 73, John has spent the last months re-reading and typing up those old letters, some 271 between them.
"Death did us part, as we knew it someday would," John wrote in a poem titled "Letters From the Past," an excerpt from the essay by the same name.
It brought back memories of the days when he and Gwen were young and living apart and "couldn't keep (our) hands off of each other" when they did connect.
He plans to bind the typed-up love letters and pass them on as a family heirloom.
"On one condition," John said. "They can only read it after I'm gone."
Memoir writing class meets Wednesdays from 1 p.m. to 2:30 p.m. at the Turner Senior Resource Center at 2401 Plymouth Road. For information on how to enroll, contact Ann Tai at 734-998-9351 or visit OLLI's website at www.olliumich.org.
James David Dickson can be reached at JamesDickson@AnnArbor.com.