Posted on
Thu, Feb 3, 2011 : 3:10 p.m.
At nearly 90, longtime Ann Arbor cyclist Joe Datsko counts more than 120,000 miles in the saddle
By Heather Lockwood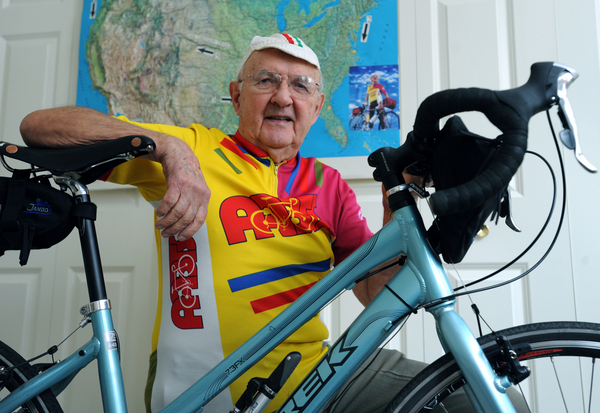 Lon Horwedel | AnnArbor.com
Joe Datsko of Ann Arbor has been an avid cyclist and a member of the Ann Arbor Bicycle Touring Society since the 1970s.
He plans to resume his usual 80 miles a week in the spring once the snows melt. You may see him out on his new blue Trek step-through, an early birthday gift.
Datsko turns 90 on Friday.
He said no one at his retirement home believes he's nearly 90.
"I know exercise has improved the quality of my life, as well as longevity," he said. "What kept me going, I'm sure, is having the Ann Arbor bike club."
He added, "Exercise can be a drudgery" unless you have friends to do it with.
Datsko has done five cross-country bike tours ranging from 1,680 miles to 5,236 miles. He estimates he has ridden about 120,000 miles since he began recording his miles in the '70s. On his longest day of riding, he covered about 200 miles.
And yet, Datsko said, he has never had to stop riding due to exhaustion.
"I never ended up a ride when I was tired or worn out," he said. "I could have continued, except it was time to come in and eat."
Tom Sleeker, publicity chairman for the bike club, said the group has about 20 members who are older than 60.
"I think he's an inspiration to riders of all ages," Sleeker said. "It's 90 degrees and 90-year-old Joe Datsko is out there riding his bike up a hill and you think, 'If he can do it, why can't I?'"
Sleeker said Datsko was one of the group's original members and was the first to log more than 100,000 miles during club rides alone — or on rides with other members.

Lon Horwedel | AnnArbor.com
Sleeker said he hopes to follow Datsko's lead.
"I just hope I'll be able to continue to ride through the years," he said.
Last summer, Datsko received his new bike as an early birthday present from his children and grandchildren. They encourage him to continue riding despite the falls he's had over the years and a more serious incident about nine years ago, in which a vehicle rear-ended him.
"In five weeks I was back riding again," Datsko said.
"They didn't want me to quit riding," he said. "We're pretty much a bike-riding family … and we appreciate if you're alert, bike riding is no more dangerous than anything else."
Datsko said cycling has always been a shared love of his, his late wife, Doris Datsko, and their five children.
Datsko's daughter Deanna Karafiath of Silver Spring, Md., said her father loved his gift.
"He really enjoyed bragging to his friends about how his family got him a new bike for his 90th birthday," she said.
When asked whether he thought he would ever make the choice to stop riding his bike, Datsko said, "If I live long enough I'll probably stop. When I feel that I don't have proper balance, coordination or mental abilities, I think I'll be smart enough to quit."
He added, "But last year my balance on a bicycle was better than while walking. And my kids hope that I'll be riding when I'm 100."
Heather Lockwood is a reporter for AnnArbor.com. Reach her at heatherlockwood@annarbor.com or follow her on Twitter.