Augusta Township bridge replacement to swing into high gear Monday
Posted on Sun, Jun 10, 2012 : 11:27 a.m.
The $750,000 Willis Road Bridge replacement project over the west branch of Paint Creek in Augusta Township is slated to begin Monday, which means road closures for motorists who live and travel in this area.
In conjunction with the bridge replacement, the sanitary sewer on the north side of Willis Road will be relocated.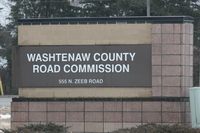 Lisa Allmendinger | AnnArbor.com
Funding
for the bridge replacement comes from the
Michigan Department of Transportation
Local Bridge funding and the
Washtenaw County Road Commission
, while the township is paying for the sewer relocation work.
E. T. MacKenzie Company of Ann Arbor, a company that has worked frequently with the Washtenaw County Road Commission, is doing the work and residents can expect crews to be on the job 10 to 12 hours per day, Monday through Saturday, excluding holidays. But, while the deck is being poured, crews will work at night because of daytime heat factors.
The new two-lane bridge will be 40 feet long with shoulders and replaces the current 1926 bridge that's 28-feet long. Willis Road will be completely closed at the bridge during construction, and the detour route will follow Whittaker Road to Textile Road to Stony Creek Road.
The construction is planned following the last day of school and the bridge is expected to be open prior to the start of the new school year in the fall. However, in the event that there's a delay, the Road Commission will coordinate bus routes with the Lincoln Consolidated School District.
Mail service will continue throughout the project but some mailboxes may be temporarily relocated to locations approved by the U.S. Postal Service.
In addition, efforts will be coordinated for trash pickup, which is expected to remain on its current schedule.
Road Commission officials said that any necessary lawn restoration in the area would be taken care of with seed, fertilizer and straw mulch.
The Road Commission also cautions residents to stay clear of the construction area for safety reasons, and once the hot asphalt is in place, not to walk or ride a bike over it until it has cooled, which can take between 4 and 6 hours.
Road closures for the project are expected to continue through August, while the project is scheduled to be finished in mid-September.