Posted on
Fri, Oct 19, 2012 : 5:59 a.m.
Aut Bar owners hope court will allow political campaign signs on their property before Nov. 6
By Ryan J. Stanton
The owners of Aut Bar in downtown Ann Arbor remain hopeful they'll be able to put political campaign signs back up outside their business before the Nov. 6 election.
"We tend to be kind of a political bar," said Keith Orr, who opened the popular Kerrytown establishment 17 years ago with his partner, Martin Contreras.
In a federal lawsuit filed on Thursday, the American Civil Liberties Union of Michigan asked a judge to strike down a Michigan Liquor Control Commission rule that prohibits businesses that serve alcohol from displaying election signs that endorse a political candidate or party.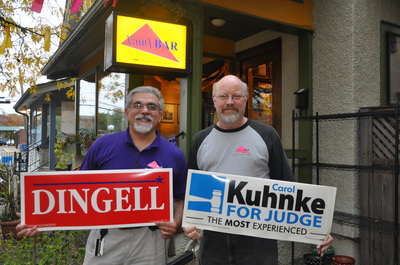 Courtesy photo
The lawsuit was brought on behalf of Aut Bar by the ACLU, which believes the case will impact the free speech rights of alcohol-serving establishments throughout the state.
"In a free society, business owners shouldn't have to trade in their free speech rights for a liquor license," said Michael Steinberg, ACLU of Michigan's legal director. "Political signs play a crucial role in elections and our local restaurants and taverns have always been social and political hubs."
Contreras and Orr posted a handful of campaign signs in front of Aut Bar several weeks ago in support of candidates like Washtenaw County Commissioner Yousef Rabhi, 22nd Circuit Court judicial candidate Carol Kuhnke and U.S. Rep. John Dingell — all Democrats who support gay rights.
After learning from a friend about a state rule that prohibits candidate signs in businesses that serve alcohol, and after consulting with the Liquor Control Commission staff, the bar's owners removed the signs. The penalty for violating the rule ranges from a $300 fine to loss of a liquor license.
"We took them down because obviously we don't want to do anything to jeopardize the license in any way," Orr said.
In its lawsuit, the ACLU contends the state's rule violates the First Amendment by denying individuals who own businesses that sell alcohol their right to express their views about political candidates.
It will ask the federal court to issue a temporary restraining order so that election signs can be displayed at the Aut Bar before the Nov. 6 election.
Orr said they're still unsure of the reasons for the rule even after speaking with the Michigan Liquor Control Commission.
"We have no idea what the compelling state interest would be," he said. "It makes no sense and there are so many absurdities about it."
The rule dates back to 1954 and states that a business owner with a liquor license cannot display signs in support of a political candidate or party, except when hosting a convention of delegates or during a fundraiser in which a special temporary license has been granted.
Contreras and Orr said Aut Bar was always intended to be a positive gathering place for the men and women of the gay community, their families and friends. They see supporting causes and political candidates that support the gay community as a central part of the bar's mission.
"It's absurd that we are not able to display political candidate signs and must remain silent on these important issues simply because we serve alcohol," Contreras said.
The ACLU pointed out the same restaurants and bars can display commercial signs, signs about ballot initiatives, and advocacy signs addressing any other social issue of the day. Additionally, owners of restaurants that do not serve alcohol can post election signs.
Across the way from Aut Bar in Braun Court is a field office for Barack Obama. Sandi Smith and Linda Lombardini, owners of Trillium Real Estate, also have political signs up on their property nearby.
Contreras and Orr said they've been openly supporting political candidates, including posting signs outside Aut Bar, since they first opened.
"We were huge supporters of Lynn Rivers," Orr recalled, referring to the former politician who represented Ann Arbor in the Michigan House and then in Congress from 1993 to 2003.
Ryan J. Stanton covers government and politics for AnnArbor.com. Reach him at ryanstanton@annarbor.com or 734-623-2529. You also can follow him on Twitter or subscribe to AnnArbor.com's email newsletters.