Posted on
Thu, Jul 4, 2013 : 5:59 a.m.
Authorities discourage bridge jumping, river swimming in wake of tragedy
By John Counts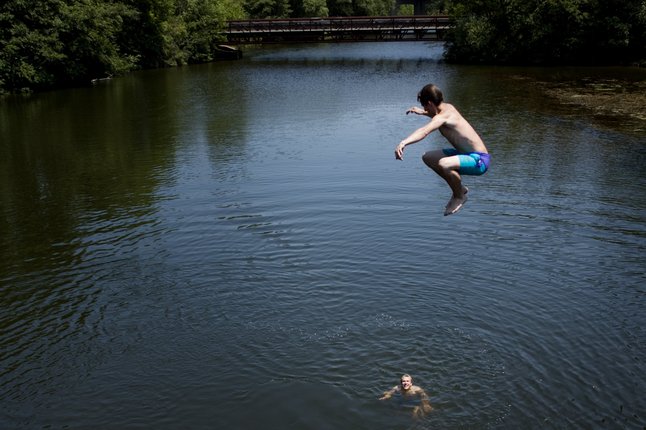 Jeffrey Smith | AnnArbor.com file photo
Bridge jumping and swimming in the Huron River are considered summertime rituals by some in the Ann Arbor area.
It's not uncommon on a hot and sunny day to see young folks leaping from railroad trestles at places like Argo Pond and Bandemer Park in Ann Arbor and at river crossings throughout the county, officials said.
But in the aftermath of the drowning death Sunday of a 21-year-old Pittsfield Township man, officials are warning that river swimming and especially bridge jumping can be dangerous — and even illegal.
"It's the thrill of the activity that draws people to it," said Corporal Robert Pasternak who supervises the Marine Division of the Washtenaw County Sheriff's Office. "People want to test themselves and their own limits."
What many people don't realize is that jumping off bridges is is illegal.
"Bridge jumping is discouraged on every level," Pasternak said. "Some people feel it's a rite of passage for the younger generation. Anyone who suggests that is ill advised. It could quite possibly lead to a fatality as demonstrated by recent (events)."
Pasternak was referring to the death of Donovan Gerard Hyter, who drowned early Sunday morning while bridge jumping from a trestle over the Huron in Superior Township just north of Ypsilanti.
Hyter and a couple of friends jumped into the river east of Superior Road around 4:52 a.m. Sunday, and his body was recovered by sheriff's officials about 5:15 p.m. Monday. Officials continue to investigate the drowning. Family members remembered the 2010 Huron High School graduate as an authentic and loving man in a recent AnnArbor.com story.
Illegal thrills
There are many legal implications to sneaking out on to a bridge and simply jumping off. Just being on a railroad bridge is against a state law, said Ann Arbor city attorney Bob West.
"It says you can't walk on railroad tracks," he said. "Walking on the tracks puts you in violation,"
Violating the Railroad Code of 1993 is a misdemeanor punishable by 30 days in jail and/or $100 fine.
It could also be trespassing, whether it's on railroad property or, in the case of the M-14 bridge that goes over the river, the Michigan Department of Transportation. Pasternak said his officers had issued "a couple dozen" trespassing citations last summer related to bridge jumping. He said even if railroad tracks run through public land like a park, the rails, the gravel and ties are private property.
Beyond trespassing, jumping off a public bridge is in itself a misdemeanor, Pasternak said.
Police agencies agree the laws are not the easiest to enforce.
Lt. Renee Bush of the Ann Arbor Police Department said officers have responded to a few calls at Bandemer Park this summer, but the young people are usually gone by the time police arrive.
Pasternak said because many of the bridge jumping locations are secluded and not accessible by road, officers have a hard time catching people on a day-to-day patrolling basis.
"Of the 100 bridge jumpers, we might only know of one or two," he said.
Dangerous waters
Bridge jumping isn't the only thing officials warn against, however: Even swimming in the river throughout the county is discouraged.
"I would strongly suggest to not swim in the Huron River because the currents are so unpredictable," said Ypsilanti police Sgt. Thomas Eberts.
Two summers ago, 29-year-old Tirail Antquan Martin drowned near Ypsilanti's Riverside Park when he got swept up in the current after chasing a child's lost shoe in the river.
Pasternak said swimming in the river is discouraged because of unpredictable currents, temperatures and depths, adding that the "the conditions of the river are ever-changing."
The undertow and lack of visibility in the river water is sometimes enough to affect even the most experienced swimmer.
"Imagine swimming in pea soup or chocolate milk," Pasternak said about how visibility could be a concern if a swimmer was pulled under.
Authorities also urge caution at some of the popular inland lake beaches in the county. Authorities say people should never swim alone and to stay at least 100 feet away from piers and jetties, where permanent rip currents often exist.
Drowning prevention
Hyter's death is the first drowning of the summer. No drowning deaths were reported last summer, Pasternak said.
"I'm pretty proud of that," he added.
Joyce Williams of Huron Valley Ambulance said paramedics were called to two locations last summer for possible drowning incidents.
In May, a 10-year-old boy who was part of a class trip nearly drowned but was saved at Independence Lake in Webster Township. Then on June 21, ambulances were dispatched to the 8000 block of Carpenter Road in York Township for a 3-year-old found face down in a swimming pool. The child was taken to University of Michigan Hospital in unstable condition, but ultimately survived.
Pasternak mostly urges people to use common sense when swimming.
"You hope people have common sense," he said. "Sometimes common sense is overruled by Mother Nature."
John Counts covers cops and courts for AnnArbor.com. He can be reached at johncounts@annarbor.com or you can follow him on Twitter.