Authorities to thin deer herd in Barton Hills
Posted on Tue, Jan 29, 2013 : 2:59 p.m.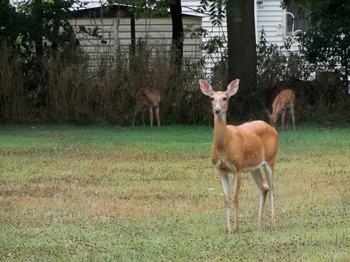 AnnArbor.com file photo
This story has been updated with information from the USDA Wildlife Office.
Officials will take aim to thin the deer herd in the village of Barton Hills Wednesday afternoon.
The United States Department of Agriculture Wildlife Services will be conducting the hunt, a release from the Washtenaw County Sheriff's Office said.
The hunt will start at 2 p.m. and run until about an hour after darkness, said Tim Wilson with the USDA Wildlife Office.
Two or three USDA employees will take to tree stands on private property in the village armed with silenced rifles for the hunt, Wilson said. The employees will also utilize bait piles. Wilson said any number of deer can expected to be "safely and effectively" removed from the area.
"We aim for neck and head shots that drop the deer right there," Wilson said.
The deer are then processed and the meat is given to local charities to feed the hungry.
Roadway safety and landscaping issues were two of the reasons residents in the affluent village requested the USDA's services in the matter, Wilson said.
Riad Al-Awar, who sits on the village's board of trustees, said the board approved the deer thinning at a meeting within the last few months.
Al-Awar said a survey had been sent out to all residents of Barton Hills and that this year the majority of them were returned in favor of thinning the deer herd.
"It has been back and forth," Al-Awar said about the debate to use a hunt to control deer in the village, which is its own municipality just northwest of Ann Arbor.
Al-Awar said he was personally against it, but said democracy prevailed.
"I don't like seeing animals killed, to be honest," he said.
But on the other hand, Al-Awar said deer can carry Lyme disease and pose hazards on roads. He added that there are numerous deer that show up in the front and back yards of his property on Country Club Road.
Wilson said his office is contacted when there is "conflict between humans and wildlife." At first, non-lethal measures such as barriers, netting and electric fencing are suggested. When those don't work, municipalities have the option of the type of deer thinning going on Wednesday.
The village must pay the USDA an undisclosed amount of money for labor, travel expenses and other reimbursements, Wilson said. This is the first time the agency has been contracted to thin a deer herd in the Ann Arbor area, he added.
Private property owners have to secure tags from the Department of Natural Resources for the harvested deer, Wilson said.
If deer continue to pose a problem in Barton Hills, there could be another hunt day, according to Wilson.
"Safety is our number one concern," he said.